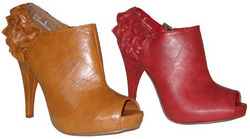 Miami, FL (PRWEB) November 2, 2010
When one thinks on the fall season and on wholesale shoes, there is one word that is immediately conjured up, and that is boots. Boots are sought after during the fall season because in most states it is very cold and / or there is snow. Boots are however, especially among women, not just chosen at random or solely for protection from the snow. After all, boots are worn indoors at the malls and in the workplace. Boots are a fashion statement. They reveal a bit of woman's personality and compliment her dressing style. As a result, women's boots are chosen with much thought and with the intent of them not only offering protection from the snow, but being stylish, fashionable, and trendy.
Retailers looking for quality, fashionable, and competitively priced wholesale boots for women should visit the wholesale shoe supplier J&M Footwear, Inc, whom have launched a grand selection of boots and the increasingly sought after item this year of ankle boots / booties. One such style that's flying out the doors is that of Beat-38. Another such style is that of Beat-3, which features the look of a boot shaft folded down—a popular trend this fall. These hot ankle boots / booties will create buzz around your store and continuously attract more women to it. In addition to those, boots with many zippers, rivets, and buckles are what is fashionable this fall, and the models of Tinker-68, Scotty, and Maker-27 offer these sought after designs. Numerous designs and colors, from the traditional black and brown, to the more vibrant colors, such as blue and red, are all available.
Not every single place is cold or snowing at this time of the year, and boots of course are not the only sought after footwear either. Pumps and stiletto heels are also in high demand. A large variety of these pumps and wholesale sandals are available at J&M Footwear, so there is definitely something there for even the pickiest of your customers. These styles are truly something to be seen because they will look gorgeous on the ladies wearing them and can also be obtained at moderate prices, proving once again that it is not always necessary to spend an arm and a leg to look fashionable and sexy.
No matter what time of the year it is, there are times when a woman prefers a shoe with no heels. These same styles are also expected to be just as stylish and fashionable as any other shoe. J&M Footwear does not disappoint in this area, with its wholesale flats, such as the style Cato-4, and its wholesale flip flops, such as the gladiator / roman sandal named Maribel.
Staying up to date on the latest styles and closeout shoes can be a bit of a challenge when you are very busy running a successful store, but it is an imperative step. Make that step a bit easier and never miss out on that one style that suddenly appears that everyone is craving for, and on all the newest styles that a are added on a weekly basis, by signing up for J&M Footwear's wholesale shoes mailing list.
###