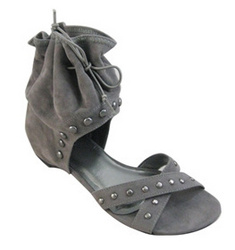 City of Industry, CA (Vocus) April 29, 2010
For this coming season, Ceriwholesale.com is the one stop shop for the hottest styles in wholesale shoes. Whether retailers are looking for wholesale women's flats, high heels or pumps, we have what they need in a variety of styles and sizes. When shopping at CERIwholesale.com, wholesalers can find chic and fashionable women's flats in gold, silver, brown and a variety of colors for as low as $96.00/case or $8.00/pair. Keeping customers' needs in mind, Ceriwholesale.com also carry sexy wholesale pumps that every woman will love, adore and desire.
At Ceriwholesale.com, embellished wholesale pumps cost the mere price of $162.00/case and are ultra-chic wholesale platform sandals are available for only $174.00/case. For a wider appeal, retailers can also choose from vivid hues such as fuchsia, turquoise, mustard and cognac. Similarly, Ceriwholesale.com sells wholesale wedges that are perfect for casual days with family and friends and boots that go well with all types of dresses and jeans. By displaying these colourful pairs of sexy and trendy shoes , women will feel compelled to stop and take a second look.
Ceriwholesale.com, a fashion authority in wholesale shoes, has proven to be a reputable seller when it comes to affordable wholesale shoes. With new styles every week, the online wholesale shoes store give shoe-holics the latest styles at the best prices and rates available in wholesale shoes. By partnering up with Ceriwholesale, retailers can resell wholesale shoes at very competitive prices. For the latest updates and news in the wholesale shoe industry, simply sign up with the company's newsletter or visit the CERIWholesale official blog.
About Ceriwholesale.com
Headquartered in the City of Industry, CA, Ceriwholesale.com is a well-established distributor of wholesale shoes. They offer thousands of products, with new items added on a weekly basis. The main objective of the company is to offer the highest quality wholesale products at the most competitive prices. Ceriwholesale.com is an online wholesale distributor of fashion products, so purchasing of individual items is not available. This Press release is produced by Cybertegic.com – an Internet marketing services agency that specializes in search engine optimized press release marketing (SEO marketing).
# # #