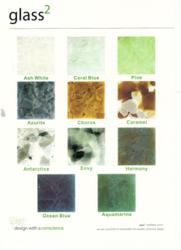 With a sustainable yet elegant look and ease of design and installation, Glass 2 is a dream of both the fabricator and designer
Brisbane, CA (PRWEB) October 11, 2011
The Bay Area's granite countertops company, Integrated Resources Group, the largest provider of natural stone in the Bay Area, announces the addition of Glass 2 in its product line. Glass 2, which has stain-free and bacteria-resistant properties, is an ideal choice for use in kitchens to keep food preparation surfaces beautiful and germ free. It can be used for countertops, bar tops, bathrooms, shower walls, tub surfacing and more. It is virtually scratch resistant and can be repaired and polished if scratches do become present, unlike other glass surfacing lines.
While natural stone is still the most popular choice for countertops and surrounds, using glass tiles in bright, bold colors is becoming the latest design trend. Creative uses of glass in both home and commercial applications are testament to the possibilities of the use of glass in creative design.
"With a sustainable yet elegant look and ease of design and installation, Glass 2 is a dream of both the fabricator and designer," said Dilmohan Chadha, owner of Integrated Resources Group. "Glass 2 is made from 99 percent recycled glass, with no resin, glues or chemicals. It is cold, heat and stain resistant so it can be used outside and in fireplace surrounds, columns, stairwells, furniture and more."
For more information on the Bay Area marble tile company, Integrated Resources Group's products and services, call 415-287-9844 or 831-484-9600, or visit http://www.marblecompany.com. Integrated Resources Group is located at 275 Valley Drive in Brisbane, CA 94005.
About Integrated Resources Group
Bay Area glass tile company, Integrated Resources Group offers the largest selection of natural stone in the San Francisco Bay Area. The family-owned business started as a trading company in 1986 dealing in agricultural products, canned food, apparel and natural stone. They offer a wide array of products such as marble tile, granite countertops, marble counter tops and onyx counter tops. The company also deals in wholesale stone.
###