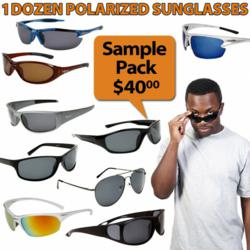 Each package can have assorted designs from a single range like polarized sunglasses and safety glasses or single brands like Designer Eyewear.
(PRWEB) April 30, 2012
Sampler sunglass packages are a great option for people starting out in the retail sunglass market as they get to stock a wider variety of designs at a low initial investment. CTS Wholesale Sunglasses recently launched several new packs of sampler sunglasses at their online store to fulfill this demand.
The small retailers do not want to buy large quantities of few designs initially as they want to first identify the popular designs in their markets. Once they get a feel of the designs and brand that sell more, they can order larger packs of each individual design to replenish their stock. Sampler packages with assorted designs are the best option for such people.
"We offer package deals from 1 dozen to 100 dozen. Each package can have assorted designs from a single range like polarized sunglasses and safety glasses or single brands like Designer Eyewear. We also have mixed packs of popular designs for men and women", reported Kirk Bachelder, owner of CTS Wholesale.
The resellers addressing a vertical like industrial safety can buy a sampler safety glass pack and offer to companies where such glasses are in high demand. Similarly they can setup a promotion like Rhinestone Sunglass Week and offer special discounts on Rhinestone sunglasses only. This can result in high volume sales in a short period and the dealer will still make a good margin because he has got these glasses under a big package deal.
Replica sunglasses are very popular with gift shop owners in markets and malls because these sell much cheaper than the big brands and therefore even budget conscious people can buy them. Most of these are high in quality with 100% UVA and UVB protection.
"We have packages with sunglass display stands for new buyers as these help them to attract customers passing-by. However those already having such stands can order the other packs with sunglasses only", advised Kirk. "Our experience of dealing with new as well as veteran retailers helps us to setup the right mix of designs in the bundles", he added.
CTS imports its wares from China thereby managing to offer the best prices to its dealers. It allows large scale buyers to get their orders shipped directly from China for cutting down on overhead costs and delays. They carry designs inspired by leading brands as well as in-house brands like Designer Eyewear, Xsportz and Gster. There are designs for men and women as well as for kids.
CTS displays the entire range at its online store and people can order wholesale hats and oil filled lighters in addition to wholesale sunglasses. 24x7 ordering, online chat and a friendly customer service has enabled this site to retain the #1 position in the market for several years at a stretch. The toll free numbers add to the convenience.
About CTS Wholesale LLC:
CTS Wholesale Sunglasses offers bulk sunglasses with assorted designs for men, women and kids, ranging from a dozen to 100 dozens. Several packages include sunglass display stands while all packs include a display box for free. Visit http://www.CTSWholesaleSunglasses.com to learn more and get started.
Contact:
Kirk Bachelder
CTS Wholesale LLC
503.364.3486