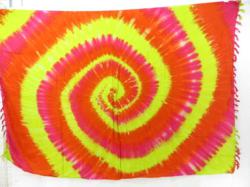 "Choose to be optimistic, it feels better."― Dalai Lama
Blaine, WA (PRWEB) January 27, 2013
Wholesale distributor Wholesalesarong.com today announces the arrival of new catalog of tie dye sarongs to expand its wholesale sarongs product line. This batch of new import would complement its aggressive sales plan for the spring / summer shopping season.
Wholesalesarong.com was set up in 1996 as a wholesale online distributor and today it has grown to become the biggest supplier where wholesale US/Canada distribution is concerned. All transactions are done in local dollar terms, so customers don't have to worry about exchange rates, import duties and overseas shipping schedules as all deliveries are shipped via standard UPS ground from its warehouses. A minimum order of CAD$80 is required for each order.
"It is difficult to pin down the exact origin of these fantastic piece of fabric; so simple on its own, but can be turned into a summer sexy skirt, quick bathing cover-up, shawl or scarf, or simply being hung up as a wall art. Folks in South Pacific islands call the Pareos, people in the Southeast Asian countries describe them as sarongs, Indians use the name Sri while Africans call them Kanga," the spokesman from the company gave a historical perspective on this potential hot seller. From other part of the world, sarong is also called Mundu Pareau, Sri, Lungi, Dhoti, Canga, Surong, and Lava-Lava.
"Regardless, sarong is surely something that you would not miss in summer. All of our sarongs providing here are made of high quality rayon to give you the most comfortable sensation! That is why we have high expectation of brisk sales on this fantastic piece of garment," added the spokesman.
Indeed the sarong took on center stage during the product launch conducted by the company. A mind-boggling array of tie dye sarongs were put on display. These fabrics typically measure 170x120 cm (67x 47 inches), all are hand made in Bali Indonesia and made of 100% rayon. These hand-dyed tie-dye clothing for all ages are very versatile and can be used as shawls, summer dresses, beach dresses, wrap skirts, swimsuit cover-ups, hippie apparels, tapestries, wall hangings, curtains, bedspreads, throws, and altar clothes.
Besides wholesale handmade tie-dye clothing sarongs, Apparel & Sarong WholesaleSarong.com wholesale huge selection of various designs of sarongs and shawls. A good sample set was put on show. They include black and white palm leaf, Hawaiian Hibiscus flowers sarong, mixed design Bali sarong small patterns blue and white, mixed designs screen print sarong with red white black small patters, Celtic knots sarong, Aloha sarong, Balinese traditional batik sarong, tattoo primitive sarong, dragonfly butterfly floral garden theme sarong, sea life turtle dolphin fish seashell sarong. For more conventional preference, one can opt for Celtic sarong in mixed designs and colors (blue, green, red, orange, purple, yellow, black and white, brown etc) or tie-dye sarong swirl.
There is also a chic category as well. These sarong usually features popular personality and the most prominent one is none other than hippie style tie-dye sarongs. There is a great variety of prints and color choices. You can order the wholesale sarongs by selected designs, or by bulk packs in 6-piece, 12-piece and 24-piece bundle. For product details and wholesale prices, please check out http://www.wholesalesarong.com/wholesale-sarong-1.htm.
Company Info:
Apparel & Sarong is a US and Canada wholesale distributor supplies Bali arts, clothing, fashion accessory, jewelry, dresses, sarong beach wear apparel, musical instruments to retailers and distributors. Products include Bali Indonesian pareo, celtic sarong, tie dye skirts, wholesale summer dresses, resort wear, African kanga, Caribbean printed Aloha Hawaiian shirt, didgeridoo, rainstick, djembe drum, rattle, shaker, maracas, thumb piano, bohemian dresses clothing, hippie apparel, semi-precious stone jewelry, organic jewelry, pendant, charm, earring, bracelet, necklace, silver jewelry, maxi dresses, bohemian dresses, mini skirts, kaftan, pants, dancing wear, poncho, horn bone wood organic jewelry, gemstone handmade jewelry, body jewelry ear plug, anklet foot jewelry, semi-precious stone, gemstone ring, fashion shawl, jewelry scarf necklace, handbag, barrette hair clip, hair accessory, affirmation banner, bedcover, bronze jewelry, bangle watch, pocket watch, body piercing jewelry, bone spiral, water buffalo horn jewelry, hanging claw, batik apparel and handicrafts made in Bali Indonesia.