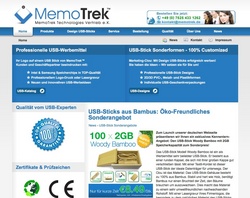 Our strict quality management system, accurate financial planning, cost management and a clear market focus ensures that worldwide customers purchase their branded USB flash drives at economical prices and with guaranteed and superior quality standards
Mc Alister, NM (PRWEB) May 27, 2010
MemoTrek Technologies, the world's leading wholesale supplier for USB flash drives and custom USB marketing solutions has recently announced the launch of a new website for branded USB sticks. The new website is introducing MemoTrek products and services by adding community building tools and focusing on customer dialog with German speaking customers and B2B business peers across Germany, Austria and Switzerland.
Strategically headquartered in Hong Kong, and with its USB flash drive manufacturing facilities located in Shenzhen, MemoTrek Technologies serves a fast growing number of international customers in more than 45 countries worldwide with wholesale orders of high-quality USB flash drives and custom USB flash drives with logo branding, while at the same time also providing reliable USB data replication services and supplying wholesale volumes of NAND flash memory.
"MemoTrek has successfully managed to grow and establish industry leading capabilities by concentrating on developing technical know-how and constantly improving production processes in order to be able to perform as today's global markets most cost efficient and reliable USB flash drive supplier", a MemoTrek spokesman stated on Monday.
Providing professional custom USB flash drive moulding, USB flash drive manufacturing and USB wholesale and supply-chain services, MemoTrek has a been able to build a unique market position by concentration of several core elements needed to benefit from a dedicated upstream USB flash drive manufacturing facility.
Production capabilities sufficient to rapidly produce wholesale orders of up to to several hundred thousand units per month both fast, flexibly and in strict accordance with the markets highest quality standards has proven to significantly increase both turnaround times and service levels towards our customers and downstream supply-chain peers.
MemoTrek embraces a corporate zero-defect policy, and by implementing international quality management standards and measure to constantly improve and optimize existing business processes, and final quality checks prior to dispatch guarantee the highest possible quality and consistency of each USB flash drive wholesale consignment.
"Our commitment to excellence is reflected in continued investments in manufacturing, quality and customer service. The continuous monitoring of all processes, our strict quality management system, accurate financial planning, cost management and a clear market focus ensures that our customers receive superior products at economical prices," the press was told by a spokesman for public relations with MemoTrek Technologies.
Taking advantage of of internet based tools to enable efficient team work and real-time collaboration, MemoTrek is able to boost synergies across both continents and time zones and significantly increase their general productivity by usage of modern web technology and advanced intranet applications such as CRM and ERP systems.
Wiki-based knowledge management systems customized for the USB flash drive and NAND flash memory supply-chain positioning enables rapid and precise order processing, while making it easier to streamline internal work processes and thus helps the company to operate with a minimal overhead.
Low costs of operations due to high efficiency and streamlined supply chains translate directly into huge price advantages for our wholesale customers, and this is certainly an important factor for MemoTrek to succeed within the highly competitive market surroundings for branded USB flash drives and custom USB manufacturing in Germany.
"Already having build up market shares by combining optimized production flows within our manufacturing units with friendly and highly efficient localized German customer service to satisfy also the most demanding Fortune 100 clients, USB wholesale distributors, USB flash drive resellers and B2B dealers, as well as important European institutions, large international NGO's and also schools and universities, we look forward to further expand our market share and firmly establish MemoTrek as the leading supplier for USB flash drives on the European market", said a spokesman of MemoTrek Germany earlier today.
Present on the German market since 2007 with a dedicated regional sales office, MemoTrek is supplying a growing number of Germany's more prominent wholesale distributors for digital media, electronics resellers as well as several of Germany's top marketing agencies with wholesale batches and B2B volumes of custom USB flash drives.
MemoTrek Technologies Germany with its new website for wholesale of branded USB sticks in Germany features several strategic advantages to establish a leading position on the German USB flash drive market. Among these are the following:
+ Fast production times and turn-arounds, also for large volumes of USB flash drives
+ Price advantages due to long-term relationships to manufacturers and sub-suppliers
+ Access to reliable supplier pools for moulding and tooling of own custom USB designs
+ High level of quality due to reliable QC processes and strict quality management
+ Premium customer support by highly qualified personal account managers in German
+ Wholesale discounts for regular customers and purchase agreements available
+ Dedicated production lines available for large or regular volume orders
Backed by strong support from MemoTrek's Hong Kong headquarters in combination with the logistical advantages of its dedicated factory offices in Shenzhen, the German MemoTrek sales office has already successfully implemented and developed its initial market entry strategy, and is now in the process of securing new market segments and building up market shares by partnering with experienced players within the German wholesale and electronic parts supply chain.
About MemoTrek Technologies Ltd.:
Industry leading wholesale supplier of customized USB flash drives to corporate customers worldwide, this Hong Kong based company has customers in more than 45 countries and counts several Fortune 500 enterprises, international NGO's and international wholesale traders worldwide to their trusted clients.
Focusing exclusively on high volume orders of branded USB flash drives to reputable customers and corporations worldwide, MemoTrek has managed to build long-term relationships with hundreds of businesses on all continents via it's information portal and trading platform at http://www.memotrek.com
MemoTrek also operates a regional Sales Office in Germany to better serve the European market with a local presence, and has recently launched a new German website for wholesale of branded USB sticks at http://www.memotrek.de
###