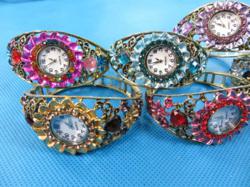 Blaine, Wa (PRWEB) May 03, 2013
Wholesalesarong.com adds rhinestone bangle watches to its impressive wholesale jewelry product line. Wholesalesarong.com today says that its latest import of cheap made-in-China vintage retro rhinestone bangle watches would lead its charge during the busy summer shopping season. The shipment covers bangle watches in multiple designs and color choices, but the theme is vintage retro style, which is the fashion of the year 2013. The company is ready to take full advantage of this sentiment and counts on this bangle watch line to help it to a bumper summer shopping season.
Wholesalesarong.com is one of the leading wholesale distributors in North America. From a modest web based business in 1996, the company has undergone a complete transformation to become a respectable business specializing in outsourcing products from Asian countries like China, Thailand and Indonesia. The business model revolves around finding competent low cost producers and bulk ship products back into America and Canada so that retailers and consumers can enjoy significant savings. In addition to wrist watches, pocket watches and retro bangle watches, the company also supplies wholesale gift items, novelty products, jewelry, clothing, Bali handmade home decors and ethnic musical instruments.
"This shipment of vintage retro rhinestone bangle watches is really dazzling. In the past, our range of wrist watches tend to focus on the male models. But this catalog would represent a good mix, with equal attention on both sexes, and some come with more neutral theme, and a lot more diverse choices of watches to choose. They will satisfy the market regardless of tastes, styles, preferences and fashion senses. As usual, our principle of bring quality products in with competitive pricing remains unchanged, so regardless what budgets consumers are on, they are bound to find desired time pieces that they can afford," declared the company spokesman.
Some models that wholesalesarong.com put on display are flower design watch bangles with crystals, elegant bronze color leather watch, trendy copper clock face watch, bling bling fashion watch with cz stones, rose bronze fashion bracelet watch, silver bracelet watch with clear cz inlaid, peacock vintage bangle watch with faux gemstone and rhinestone. It is indeed one amazing range. To have a better appreciation of the depth and breadth of this catalog, check out the company website http://www.wholesalesarong.com.
Wholesalesarong.com has a clear delivery policy. All orders are shipped out within 3 to 5 business days from order confirmation. The standard shipping mode is normal UPS ground. For retailers with addresses outside mainland US and Canada, please check the website for alternative shipping arrangements.
Company Info
Apparel & Sarong is a US and Canada wholesale distributor supplies Bali arts, clothing, fashion accessory, jewelry, fashion watches, dresses, sarong beach wear apparel, musical instruments to retailers and distributors. Their sterling silver jewelry products include cz silver earring, mother of pearl silver earrings, Celtic pagan earrings, turquoise earrings, Balinese hoop earrings, semi-precious gemstone pendants necklaces, seashell bracelets, Marcasite sterling silver pins and brooches, silver snake chains, love heart jewelry charms and more. Their wholesale clothing products include Bali Indonesian pareo, Celtic sarong, tie dye sarong, jewelry necklace scarves, polyester scarf, infinitive scarf, plus sized dresses, swimsuit cover up sarong, halter sundress, summer fashion tops for plus size women, handkerchief hem dress, Kimono summer dress, Hawaiian tropical women's sun dress, casual dress, Kimono caftan, maxi dress, bohemian dress, halter top beach dresses, handmade crochet clothing, mini skirts, plus size clothing caftan, pants, dancing wear, sundresses, poncho, Caribbean printed Aloha Hawaiian shirt. More information can be found on their website http://www.wholesalesarong.com.