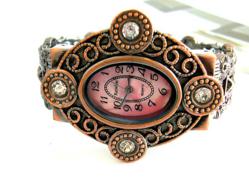 Let us always meet each other with smile, for the smile is the beginning of love. --Mother Teresa
Blaine, WA (PRWEB) January 07, 2013
Apparel & Sarong introduces new arrivals of CZ watches to its online wholesale catalog, with amazing bulk wholesale prices starting from $3 per piece. Wholesalesarong.com is looking forward to brisk sales for its latest range of wholesale watches, with expectation that highly popular cz band watches to carry it through.
The largest continental America wholesale distributor, wholesalesarong.com, today announces it has imported a huge collection of wholesale watches. The new watch catalog is comprehensive but there is little doubt what the company is banking on to achieve dominance in the market. The eye catching cz band watches come with assortment of designs and colors. The watches come with either metal or leather strap. This is the single largest shipment of cz watches it has ever brought in.
Wholesalesarong.com has offices and warehouses in both US and Canada, and the company has long established a fine reputation for its rich array of wholesale products, including wholesale fashion jewelry, garment clothing, novelty products and collectibles and of course watches.
"For this shopping season, retailers in both Canada and US will be pleased with the diverse choices of watches we have for them. Indeed, there are going to be a lot to choose from. This time around, we have a good mixture of wholesale wristwatches that cater to both sexes, and some come with more neutral theme. They all appeal to different tastes, styles, preferences and fashion senses. Again, as our motto is to bring fine merchandize with competitive pricing, so consumers will be able their desired time pieces that meet their budgets," declared the company spokesman.
Among the few models put on display during the press conference are Cz unique lady imitation lady watch, elegant bronze color imitation leather watch, trend wear copper clock face frame with classic cz gemstones inlaid on ladies stylish watch, bling bling fashion watch with crafted cz stones, day wear unique design watch with cz gem stones, Rose bronze fashion cz watch bracelet, silver bracelet watch with clear cz inlaid, ladies evening wear bangle bracelet fashion watch with trendy cz gems, and hot style ladies day watch. It is indeed an impressive lot and everyone seems to stand out on its own uniqueness and exquisiteness.
Standard packaging applies, which can start from 6 pieces, then 24 pc, 48 pc and 120 pc. Each order will be assigned to assorted colors and designs, picked randomly by warehouse helpers. All deliveries will be made via standard UPS ground and shipped directly from the wholesale warehouses in US and Canada directly to the stores of retailers, novelty shops and gift shop operators.
Consistent with wholesalesarong.com's past practices, all merchandize are available to order immediately after the company unveils its catalog. For distributors and retailers outside continental US and Canada, please refer to our website for order details as well as shipping arrangements.
Company Info:
Apparel & Sarong is a US and Canada wholesale distributor supplies Bali arts, clothing, fashion accessory, jewelry, dresses, sarong beach wear apparel, musical instruments to retailers and distributors. Products include Bali Indonesian pareo, celtic sarong, tie dye skirts, African kanga, Caribbean printed Aloha Hawaiian shirt, beach wear, swimsuit,. didgeridoo, rainstick, djembe drum, rattle, shaker, maracas, thumb piano, rasta clothing, hippie apparel, Bob Marley jewelry, organic body piercing jewelry, pendant, charm, earring, bracelet, pin brooches, toe ring, necklace, silver jewelry, maxi dresses, bohemian dresses, women's skirts, kaftan, pants, dancing wear, poncho, horn bone wood organic jewelry, wholesale handmade jewelry, wooden ear expanders, anklet, foot jewelry, gemstone bracelet, silver ring, evening shawl, jewelry scarf necklace, hippie shoulder bag, barrette hair clip, hair accessory, Bali handicrafts, bedcover, crystal cz watch, bangle watch, pocket watch, organic earring jewelry, Indonesian batik, kids apparel and home accents made in Bali Indonesia.