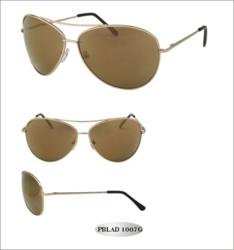 Featuring a hassle-free navigation, visitors can now shop with ease and order wholesale sunglasses in a much simpler manner.
Pomona, CA (PRWEB) July 04, 2011
Browsing through over 500 designs of wholesale sunglasses has been made easier with FashionTechEyewear.com's revamped website. Featuring a hassle-free navigation, visitors can now shop with ease and order wholesale sunglasses in a much simpler manner. Consumers can choose to shop for wholesale aviator sunglasses, wholesale wayfarer sunglasses, wholesale sport sunglasses, or wholesale fashion sunglasses by New Arrivals, Best Sellers, Brands, or Style. Carton Club members have their own section while customers who prefer sale items can simply visit FashionTechEyewear.com's Sales section.
In line with this, FashionTechEyewear.com is also offering free shipping for retailers who have minimum orders of $250 on wholesale aviator sunglasses and other eyewear products. Carton Club members on the other hand, can receive as much as 25% worth of discounts for orders starting at $500, which are automatically deducted off the total order during checkout. Wholesale aviator sunglasses orders worth $500-$999, for example, are entitled to a 10% discount while orders on wholesale fashion sunglasses worth $1000-$1999 can receive a 15% discount. Orders totaling $2000 and above then, are guaranteed a 25% discount upon checkout.
Offering the best quality wholesale sunglasses at unbelievably low prices, FashionTechEyewear.com guarantees that each pair of wholesale aviator sunglasses or wholesale sport sunglasses is built to last as all frames are manufactured from either lightweight metal or polycarbonate plastic and formed with precision to ensure that owners can wear each pair without experiencing any kind of discomfort. With over 500 designs of protective eyewear, retailers can shop for the top choices of wholesale sunglasses from FashionTechEyewear.com. Also included in FashionTechEyewear.com's roster of quality products are counter and floor displays as well as accessories such as pouches and cases for wholesale sunglasses.
About FashionTechEyewear.com
Headquartered in Pomona, California, FashionTechEyewear.com is a division of Pacific Blue USA, Inc. FashionTechEyewear.com specializes in manufacturing and distributing high performance eyewear such as wholesale aviator sunglasses, wholesale men's sunglasses, wholesale women's sunglasses, and wholesale kid's sunglasses. The company also offers specialty wholesale sunglasses at par with OEM standards for customized orders. Press release produced by Cybertegic.com – an Internet marketing services agency that specializes in search engine optimized press release marketing (SEO marketing).
###