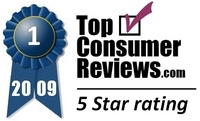 We're pleased to receive TopConsumerReviews.com's highest rating
Overland Park, KS (PRWEB) July 7, 2009
TopConsumerReviews.com, LLC recently awarded their highest five-star rating to Worldwide Brands, a market leader in Wholesale Dropshipping.
"We're pleased to receive TopConsumerReviews.com's highest rating," said Les Cowie, Director of Business Development, WorldwideBrands.com. "We have a strong commitment to provide quality e-commerce business education, as well as a trusted network of drop shippers and wholesale suppliers. We spend thousands of hours each year reviewing wholesale suppliers that will work with individual online retailers directly and provide authentic, quality merchandise. We're proud to be recognized for our efforts."
Wholesale dropshipping is a supply chain management technique in which retailers maintain no merchandise in stock. Instead, the retailers forward customer orders to wholesalers who then ship the goods directly to the customer. Retailer profits are made on the difference between the wholesale price + drop ship fee and the online seller's retail price.
The benefits of dropshipping are numerous. A retailer is not required to purchase up-front inventory, pay storage space, or carry the expense of employees needed to assist with those traditional functions of business. The wholesaler benefits by not having to pay marketing and advertising costs for their goods.
"Worldwide Brands is a top-notch website for any individual that is interested in buying and selling goods on the Internet," explained Brian Dolezal, of TopConsumerReviews.com. "They take the industry lead in providing high quality, helpful information that allows the entrepreneur to be successful. Unlike many other providers, Worldwide Brands offers a money-back satisfaction guarantee with no strings attached. If you want to buy and sell products on the internet - Worldwide Brands is the place to go."
To find out more about Worldwide Brands and other Wholesale Dropshippers, including reviews and comparison rankings, please visit the Wholesale Dropshippers category of TopConsumerReviews.com at topconsumerreviews.com/wholesale-dropshippers.
About Worldwide Brands
Worldwide Brands Inc. is headquartered in Florida and was founded by Chris Malta, CEO. Chris is also the Product Sourcing Editor for The eBay Radio Show, and runs business workshops for entrepreneurs. Worldwide Brands Inc. offers the world's largest directory of fully-verified ecommerce wholesale suppliers and guarantees that the thousands of wholesalers in their database are Scam-Free.
About TopConsumerReviews.com
TopConsumerReviews.com, LLC is a leading provider of independent reviews and rankings of hundreds of consumer products and services. From popular diets and VoIP services, to home security systems and debt consolidation programs, TopConsumerReviews.com delivers in-depth product evaluations in order to make your purchasing decision easier.
###