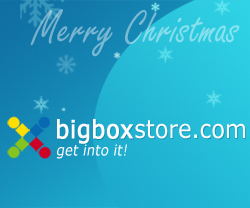 We need to have a wide variety of products to accommodate the needs of global consumers.
Shenzhen, Guangdong (PRWEB) October 21, 2009
Bigboxstore.com plans to post record sales this holiday season. In anticipation of a Christmas splurge on electronics manufactured in China, the wholesale supplier will stock its website and shelves with a vast inventory of over 1000 products. Not only has Bigboxstore.com increased quantity, but additional products in new shopping categories will also be available. Virtually any customer worldwide can find a great gift in this array of products. In addition, Bigboxstore.com will release special sale discounts to attract customers looking to purchase factory-direct electronics.
Bigboxstore.com started small, but has grown quickly. Starting in March, 2008 the online electronics supplier offered buyers a selection of 200 products. In just over a year and a half, Bigboxstore.com has increased their selection to include over 1000 products. One of the most reliable Chinese wholesalers, Bigboxstore.com dropships all of these 1000 products to countries around the world at no extra charge. Personal buyers and online entrepreneurs alike stand to benefit from this availability during the 2009 holiday season.
Bigboxstore.com's inventory has also expanded in recent months to include products that other dropshippers don't offer. Rather than just offering cell phones and multimedia players to Christmas shoppers, Bigboxstore.com hopes to attract additional customers looking for personal computers, gaming accessories, health and beauty products, sporting equipment, and children's toys. According to Wholesale Dropship Services Director Gary Zhao "We need to have a wide variety of products to accommodate the needs of global consumers."
The electronics supplier also plans to capitalize on Christmas demand by rolling out huge discounts on popular products. The best selling models, from cell phones to electronic cigarettes, will be on sale this holiday season. While the world economy appears to be rebounding, many consumers will undoubtedly be looking to cut costs on their holiday shopping list. Frugal shoppers, meet Bigboxstore.com.
# # #