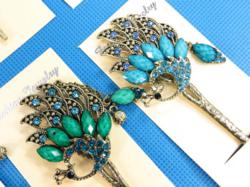 Blaine, WA (PRWEB) April 30, 2013
Apparel & Sarong Wholesalesarong.com adds hair barrettes to its wholesale hair accessories line.
Apparel & Sarong Wholesalesarong.com today unveils a new range of vintage hair barrettes from its latest shipment from China. The shipment underlines the company's ambition in its wholesale hair accessories category to outperform the competition in the crowded US wholesale market. There are rich choices in term of wholesale hair accessory products; there are antique retro hair pins, antique style crystal hair picks, vintage rhinestone hair barrettes, hair bow clips, headbands embellished with crystals jewels and more.
Apparel & Sarong Wholesalesarong.com is one of the leading distributors of wholesale jewelry and apparel products in continental America. The company was originally set up in 1996 as a modest web based distributor and it has since grown to its tremendous size today, serving over 10,000 wholesale customers in US, Canada and worldwide. Its business model centers on outsourcing products from low cost producers in Asia and bringing them back to North America so consumers can enjoy cost effective products at decent quality. In addition to jewelry and garment products, the company also imports watches, sunshades, home décor products, novelty items and general fashion accessories.
"It is easy to see that our range of hair care products is kind of limited when one compare this catalog with our traditional flagship products, like clothing and jewelry products. They are a welcome addition to jewelry and clothing stores." said the company spokesman.
"We will stay true to our philosophy, which is to strike a good balance between acceptable quality and cost effectiveness of the products. This has worked well with our previous imports, and retailers could attest that they usually can make a decent return on their sales. And this principle would continue to apply," added the spokesman.
The shipment touches on a wide spectrum of hair accessory products. One can find the simplistic yet elegant hairpin to the more complex clip on faux hair extensions. There is also the light-hearted belly dance hairpin head buckle headband in gold color, Bali inspired hair pick, cz hair tie ponytail holders, cz retro vintage barrette hair clips, and fabric bow tie hair clips. Each model comes in assortment of designs. For detailed information, please check out http://www.wholesalesarong.com/canada-wholesale-hair-accessory.htm and http://www.wholesalesarong.com/wholesale-hair-accessory.htm.
Apparel & Sarong Wholesalesarong.com arranges daily delivery from its centralized warehouses. The standard transport mode to continental US retailers is via UPS normal ground. For retailers with addresses outside mainland America, please check out the company website for shipping details.
Company info:
Apparel & Sarong is a US and Canada wholesale distributor supplies Bali arts, clothing, fashion accessory, jewelry, musical instruments to retailers and distributors. Products include Bali Indonesian pareo sarong, jewelry necklace scarf, pashmina shawls, summer dresses, mini skirts, kaftan, pants, dancing wear, poncho, tapestries, wall hangings, curtains, bedspreads, throws, altar clothes, semi-precious stone jewelry, organic jewelry, pendant, charm, earring, bracelet, necklace, retro hair pins, crystal hair picks, vintage barrette hair clips, hair bow clip, headband, rhinestone hair barrette, silver jewelry, home decorations, garden supply and Bali handicrafts. Click here for product details and bulk wholesale prices.