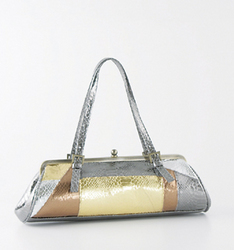 All our wholesale handbags stem out of our meticulous research on what's hot and what's not for the current season. We can proudly say that our retailers and resellers are on top of the wholesale handbags trend
City of Industry, CA (PRWEB) July 15, 2008
The economy may be suffering a terrible crisis but there will be more catastrophes if women were not given a choice to choose and own different handbags. It is indeed a known fact that women cannot survive with just one or a few handbags. Taking this phenomenon into consideration is what makes the wholesale handbags business thrive despite any economical crisis.
Recognizing the demand for women to have an abundance of handbags far outnumbering the days in the calendar, leading wholesale handbags distributor CERIWholesale.com assists retailers and resellers in keeping up with the fast changing trend in the handbag market. With the constant arrival of wholesale handbags, retail store owners are spared from shopping from one wholesale handbags distributor to the next just to find the latest season's trends.
To bring up the heat this summer, CERIWholesale.com has added more summer's trendiest wholesale handbags in their trendy collection. Top picks for the season include vibrant colors of wholesale handbags, exotic animal prints, sassy metallics, gorgeous patents, and the modish color-block style of wholesale handbags. For whatever season or reason, there are always a lot of wholesale handbags to choose from at CERIWholesale.com.
"All our wholesale handbags stem out of our meticulous research on what's hot and what's not for the current season. We can proudly say that our retailers and resellers are on top of the wholesale handbags trend," says Joanne Han, CERIWholesale's product manager.
True to their word, CERIWholesale.com continuously sends weekly e-mails to all subscribed retailers and resellers to inform them of the newly arrived wholesale handbags and other wholesale fashion items like wholesale shoes, wholesale jewelry, and wholesale clothes. Small retailers and resellers, who lack the time and resources to keep up with the fashion trends, are sure to be on the loop when it comes to the latest craze in the fashion industry.
What's more, the company even provides all its customers the tips and tricks of the trade when it comes to storing handbags for it to last a long time. True enough, the company has lived up to its reputation in being a one-stop shop for all wholesale handbags and other wholesale fashion item needs.
About CERIWholesale.com
Headquartered in the City of Industry, CA, CERIWholesale.com is a well-established wholesale handbags distributor, as well as of wholesale shoes and other fashion accessories. They offer thousands of products, with new items added on a weekly basis. The main purpose of the company is to offer the highest quality wholesale handbags and other products at the most competitive prices. CERIWholesale.com is an online distributor of wholesale handbags and other fashion products; purchasing of individual items is not available.
###