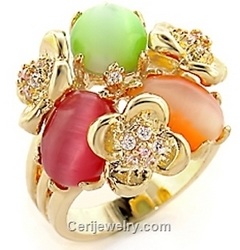 City of Industry, CA (PRWEB) July 31, 2009 - With its new website up in full-
swing, Cerijewelry.com takes business to the next level by adding more wholesale jewelry pieces to its already wide wholesale jewelry collection. Catch the new sizzling-hot wholesale fashion jewelry pieces that speak of summer fashion at the new arrivals page.
The summer season calls for sensational fashion jewelry. Big, bold and brazen are the best words to describe this season's top trends. Bright and colorful gemstones will be the top picks. Women will surely go all around town searching for these pieces. Retailers and resellers of wholesale jewelry better prepare for the influx of customers looking for the trendiest wholesale jewelry pieces available. With Cerijewelry.com's new arrival of wholesale jewelry pieces tailored for the summer trend, all wholesale jewelry traders will surely find what they are looking for in this one-stop-shop for all wholesale jewelry needs.
Apart from its wholesale price offering, Cerijewelry.com is also offering a free next-day air or international priority shipping for all wholesale jewelry orders that are $500 or more. This limited offer applies to the United States, Puerto Rico, Canada, and other international destinations.
Online wholesale jewelry expert Cerijewelry.com knows that no woman should be denied the chance to sparkle with the latest fashion jewelry pieces. A company built on having a strong partnership with its wholesale jewelry retailers, Cerijewelry.com makes it a point to constantly add the latest wholesale jewelry pieces all year round. Retailers and resellers of fashion jewelry will surely find the top picks of wholesale silver jewelry, wholesale bracelets, wholesale earrings, wholesale rings, wholesale necklace, wholesale pendants, and more. With trendy wholesale jewelry pieces sold at wholesale prices, wholesale jewelry retailers are guaranteed an increase in sales and profits.
Be one of the first to learn about the latest arrivals of wholesale jewelry and receive special discounts and promotions given by Cerijewelry.com. Join the mailing list and be informed of the latest trends in wholesale jewelry, the newest wholesale jewelry arrivals and special promotions.
CeriJewelry.com also sells men's wholesale jewelry such as gold-tone rings, two-tone rings, and more.
About CeriJewelry.com
Headquartered in the City of Industry, CA, CeriJewelry.com is a well-established distributor of wholesale jewelry. They offer a wide variety of fashion jewelry, with new items added on a weekly basis. The main purpose of the company is to offer the highest quality wholesale jewelry at the most competitive prices. CeriJewelry.com is an online wholesale distributor of fashion jewelry; purchasing of individual items is not available. Press release produced by Cybertegic.com - an Internet marketing services agency that specializes in search engine optimized press release marketing (SEO marketing).
###