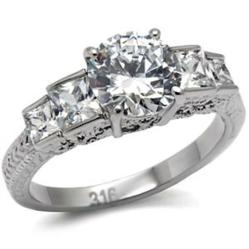 Proud to announce the latest trend in wholesale jewelry, CeriJewelry.com has launched brand new styles in stainless steel.
City of Industry, CA (PRWEB) February 20, 2012
Who ever said that stainless steel is just a fad? With CeriJewelry.com, an online depot of wholesale fashion jewelry, Stainless Steel jewelry is one of the top selling categories in fashion jewelry. Additionally, the wholesale jewelry supplier shifts focus to men this season with its collection of men's jewelry that every jewelry retailer should have in retail stores, showrooms, or online marketplaces.
Proud to announce the latest trend in wholesale jewelry, CeriJewelry.com has launched brand new styles in stainless steel. All stainless steel rings from the wholesale jewelry manufacturer are made of only the highest grade of steel available on the market today, Tusk 316 stainless steel. One of the many features of stainless steel rings is that they will not rust, change color, and requires minimal maintenance to keep the pieces looking brand new. Shop the stainless steel collection today and purchase wholesale cocktail rings embellished with cubic zirconia stones, pearls, and premium Austrian crystals. Even their wholesale bridal jewelry such as wedding sets and engagement rings are also available in stainless steel.
Aside from wholesale stainless steel jewelry, CeriJewelry.com also focuses on a market segment often targeted by jewelry store owners – men. CeriJewelry.com's Men's jewelry collection offers choices of over 90 styles of handsome-looking wholesale rings made from stainless steel and sterling silver, just to name a few. Choose from military rings, Masonic rings, wedding bands, and even cuff links that start for as low as $3.30.
Always at the forefront when it comes to the latest styles of wholesale jewelry, CeriJewelry.com regularly updates its collection of wholesale rings, wholesale necklaces, wholesale earrings, and wholesale bracelets, guaranteeing its retail clients that all wholesale fashion jewelry products are the most stylish and fashionable on the market today. Other up and coming collections at CeriJewelry.com include their brand new 2012 Spring Collection, Heart Jewelry Collection, and Sterling Silver Stud Earrings Collection.
Join the company's mailing list to receive exclusive deals and offers or v isit the wholesale jewelry manufacturer's official blog for the latest wholesale fashion jewelry industry news and tips.
About Cerijewelry.com
Headquartered in the City of Industry, CA, Cerijewelry.com is a well-established distributor of wholesale fashion jewelry. They offer a wide variety of fine fashion jewelry, with new items added on a weekly basis. The main purpose of the company is to offer the highest quality wholesale jewelry at the most competitive prices. Cerijewelry.com is an online wholesale distributor of fashion jewelry---Purchasing of individual items is not available. Press release produced by Cybertegic.com – an Internet marketing services agency that specializes in search engine optimized press release marketing (SEO marketing).
###