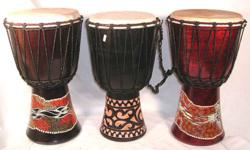 Without music, life would be a mistake. --Friedrich Nietzsche
Blaine, WA (PRWEB) January 20, 2013
Wholesalesarong.com adds tribal bamboo flute, didgeridoo and fabulous percussion drum to its repertoire of musical instruments wholesale product lines.
Wholesalesarong.com today announces that it is introducing tribal musical instruments to the market with in a big way. Wholesalesarong.com has identified a number of such handmade instruments like Balinese guitar, percussion djembe drum, tribal violin, rainstick, didgeridoo, and native handheld drums from the South East Asia. The plan is to use these products to supplement the main spring/summer sales program, currently in force with its stockpile of wholesale jewelry, wholesale gifts and garment products – which traditionally form the mainstay of the company. Wholesalesarong.com is the largest wholesale fashion distributor in continental America and enjoys tremendous patronage from retailers in both US and Canada. It also has a home decoration wholesale arm that supplies interesting and innovative decorations to the homes.
"Statistic has shown that people are at their most inquisitive best when the weather is bright and brilliant. So as we move into spring and summer, there could possibly be more youngsters who will be moved to pick up these instruments and explore their music inclination," explained the spokesman of the company, in a lighthearted manner.
"But the economic potential cannot be ignored. In deciding to bring in these tribal music instruments, our first consideration was naturally those folks who are musically inclined, or people who want to experiment with their music, and there exist a significant proportion of such folks out there. But there is also a secondary market out there; specifically people who likes to collect antiquated and rustic items for their novelty values. Perhaps a wooden didgeridoo would be appreciated more for its visual appeal than its intended purpose. Such things are great as collectibles and decorations, or maybe also be presented as a valuable gift set to people you love. I take this opportunity to strongly urge our retailers and gift shop owners to have a real good look at this catalog and carefully evaluated the market potential here," explained the spokesman further.
The current catalog covers a good range and they are essentially Oriental and African themed instruments. These include percussion djembe drums, native hand drums, bongos congas, wooden didgeridoo, bamboo didgeridoo, rainstick, Bali bamboo whistle, iron gong, handheld shaker, metal pipe xylophone, coconut shaker maracas rattle, wooden egg shaker, pan flute, pan pipe, thunder-maker drum, finger kalimba thumb piano, frog rasp and more. The stocks are impressive with distinct tribal flavor and excellent visual appeal. For example, African style djembe drums, a aboriginal assorted design dotted color, deep carving or animal paintings with sheep skin on surface, also adjustable alpine string to tune the sound. All the musical instruments are hand made in Bali Indonesia.
Of course, there are many more that are crowd pullers. Check out the website http://www.wholesalesarong.com for full list and illustrations.
Company Info:
Apparel & Sarong is a US and Canada wholesale distributor supplies Bali arts, clothing, fashion accessory, jewelry, dresses, sarong beach wear apparel, musical instruments to retailers and distributors. Products include Bali Indonesian pareo, celtic sarong, tie dye skirts, African kanga, didgeridoo, rainstick, djembe drum, rattle, shaker, maracas, thumb piano, rasta clothing, hippie apparel, gothic jewelry, organic jewelry, pendant, charm, earring, bracelet, necklace, silver jewelry, maxi dresses, bohemian dresses, mini skirts, kaftan, pants, dancing wear, poncho, horn bone wood organic jewelry, wholesale handmade jewelry, body jewelry ear plug, anklet foot jewelry, semi-precious stone, gemstone ring, fashion shawl, jewelry scarf necklace, handbag, barrette hair clip, hair accessory, affirmation banner, bedcover, bronze jewelry, bangle watch, pocket watch, organic piercing jewelry, bone spiral, water buffalo horn jewelry, hanging claw, batik apparel and handicrafts made in Bali Indonesia.