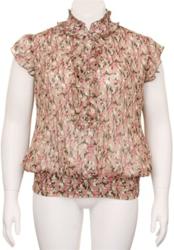 Los Angeles, CA (Vocus/PRWEB) March 23, 2011
Help make plus size women feel sexy and fashionable by purchasing the latest collection of wholesale plus size clothing from OrangeZone Inc.com, an online depot of wholesale apparel. For a low price of $3.75/piece, purchase wholesale plus size leggings available in different shades such as turquoise, fuchsia, red, gray, black, and purple for a set of 18. Manufactured with 92% nylon and 8% Spandex, wholesale plus size leggings are ideal with dresses, skirts, and pumps.
Playful wholesale plus size dresses are available for plus-sized women on the go. With a unit price of $9.50, wholesale plus size dresses feature different prints that are trendy and stylish, perfect for casual days with family and friends. Play around with floral and leopard prints for a more outgoing style. The latest collection of wholesale plus size clothing for women also includes elegant plus-sized dresses for women who are more body-conscious, taking pride in their figure and shape. These include wholesale plus size dresses featuring short sleeves with a square neckline and ribbon tie back.
Wholesale plus size blouses that feature short sleeve 2fer tops in various designs are priced at $9.00/piece for a prepack of 6 while V-neck print tops in psychedelic and floral are available for only $8.00/piece. For officewear, OrangeZoneInc.com offers wholesale plus size ¾ sleeve tops with print inserts and string tie on waists for only $9.00/piece.
Feel the warmth and comfort of wholesale plus size microfiber coats for as low as $11.00/piece. Choose between wholesale plus size thermal wear featuring zip front jackets with white soft fur around the collar and cuff or double-breasted microfiber lightweight coats with belt. OrangeZoneInc.com's latest collection will not be complete without wholesale plus size athletic wear. Each set of a wholesale plus size velour jogging wear costs only $10.50, featuring a hood, 2 kangaroo pockets, and full zip with 2 strips on the sleeve.
OrangeZoneInc.com offers wholesale clothing at 70% below wholesale prices. Orange Zone Inc's vast collection of wholesale apparel includes wholesale plus size clothing for women, wholesale men's clothing, and wholesale women's clothing. The off-price apparel specialist also offers accessories such as extremely affordable umbrellas. Join the company's mailing list to receive exclusive news and discounts on its wholesale products.
About Orange Zone, Inc.
A leading distributor of wholesale apparel since 1996, Orange Zone, Inc. offers a wide collection of wholesale clothing for men and women. In addition, Orange Zone offers a large selection of wholesale plus size women's clothing. Giving almost 70% savings off regular wholesale prices, Orange Zone, Inc. is committed to being the best source for wholesale trendy clothes, wholesale plus size, wholesale junior clothing, and other wholesale apparel. Press release produced by Cybertegic.com – an Internet marketing services agency in Los Angeles, CA that specializes in search engine optimized press release marketing (SEO Marketing).
# # #