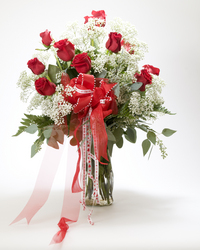 Riverside, CT (PRWEB) December 17, 2008
May Arts, Inc., a leading supplier of wholesale floral ribbons, today introduced five new wholesale ribbons with distinctive and elegant Valentine's Day-themed designs.
Each new ribbon is designed to add the perfect romantic embellishment to a Valentine's Day floral arrangements or long-stem rose bouquets.

May Arts' XA family of ribbons have whimsical, tiny pom-pom accents along a wired edge, allowing for easy use in arrangements or wrapping a fruit and gourmet basket. Available in 1.5-inch wide, 25-yard spools in white/red, red/white, pink and 12 other patterns.
May Arts' TH family are two-tone mesh ribbons with a finished edge that does not fray. These airy ribbons have a unique texture which adds volume, so bows look fuller and knots stay tied. Available in 1.5-inch wide, 30-yard spools in red, pink and 12 other colors or 2-inch wide, 50-yard spools.
The May Arts "C" family of sheer ribbons add a breezy, almost risqué touch to a bouquet or dozen roses. Clean-cut finished edges that won't fray. Great for tying a dozen long-stem roses. Available in 1-, 1.5-, 2-, 3- and 5-inch wide in red, pink and 50 other creative colors.
For a subtle finishing touch that makes floral arrangements look richer, May Arts has two new Valentine-themed accent ribbons.

The HL family features sheer, finished-edge ribbons with printed red or pink hearts of varying sizes.
The AHH family has woven red/pink hearts in alternating open and closed patterns. Both ribbon families have an elegant, satin-finished edge and are available in 3/8-inch wide, 50-yard spools.
In addition to these five new ribbons, May Arts also stocks hundreds of other wholesale floral ribbons for Valentine's Day including wired sheer ribbons, double-sided satin ribbons and wired, iridescent ribbons. You can see them all at http://www.mayarts.com/pages/florist-ribbons.
New Web Site for Wholesale Ribbon Buyers
Open only to registered wholesale ribbon buyers, the all-new mayarts.com is a secure, on-line store that makes it fast and easy for florists to find wholesale floral ribbons anytime, day or night. The site features more than 5,000 big, zoomable color pictures so buyers can see details of a ribbons before ordering. Plus, a powerful, built-in search engine helps florists find floral ribbons by color, fabric, or occasion.
About May Arts:
May Arts is a leading wholesale distributor of high quality ribbon products, serving merchants around the world, from large retail outlets to home-based business in the craft and scrap-booking, gift, stationery, quilting, fancy food, floral, interior design and jewelry industries. Since its founding, May Arts has built its business on a foundation of quality products, affordability, and outstanding customer service.
###