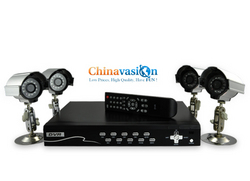 The means are there to provide affordable, convenient kits, Chinavasion has just taken that small step needed to actually provide them
Shenzhen, Guangdong (Vocus) April 8, 2010
Small stores and home owners are missing out on truly accessible security kits says wholesale security cameras system supplier, Chinavasion.
And it is something that the China security cameras source intends to remedy with a new line of affordable security camera DVR Kits, which cost 50% less than competing kits.
Small business and family shop owners know how important security cameras are to their business.
They don't have much money and what money they do have is often tied up in inventory and equipment.
This makes loss by theft or vandalism a risk they cannot afford to take.
Unfortunately security cameras and equipment are expensive to buy and difficult to install.
Most kits from other famous brands such as Samsung, Panasonic, Vitek, IQ or Messoa cost between 600 and 1000 US to buy online and components require the purchaser to know what camera will work with which DVR system.
According to Rose Li, PR Manager for, China security cameras supplier Chinavasion, it was for this reason that the company launched its current line of DVR kits, which didn't only come designed to work directly out of the box, but came at a price that was well under that charged by competitors.
"The means are there to provide affordable, convenient kits, Chinavasion has just taken that small step needed to actually provide them," says Chinavasion's Rose Li.
Unlike competitors offerings Chinavasion's cameras are all priced under 350 dollars and come with all the features expected from security cameras kits at twice the price.
All kits come with sharp CCD lenses a 500GB hard drive and all the cabling and equipment needed to get people's homes and businesses protected, not only that they are network able allowing for remote monitoring through the internet.
"Chinavasion doesn't cut product quality when it cuts prices," according to Chinavasion's Rose Li.
"These are true wholesale security cameras prices for resellers and end users alike."
And, according to Chinavasion's Rose Li the security cameras wholesale company knows that the relationship doesn't stop when the goods are sent.
"Everything at Chinavasion is protected by a 12 month manufacturers warranty, which is backed up by a world class customer support team."
###