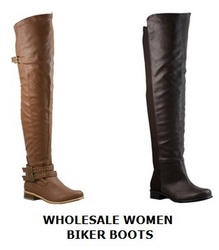 City of Industry, CA (Vocus) September 19, 2010
It's the winter season once again and everyone just wants to warm up. With CERIWholesale.com, warming up those cuddly feet and sexy legs will never be a problem. Women can cozy up with the hottest styles in fall and winter wholesale shoes styles. Indulge in gorgeous pairs of wholesale shoes such as winter boots, ankle boots, and casual boots that are bound to beautify women's legs, adding some height while making the legs look sexier and longer.
Wholesale shoes such as moccasin winter boots cost a mere price of $120.00 per case for a pair of 12, with each pair costing $10.00. Made from microsuede material, wholesale moccasin winter boots are available in different colors – customers can choose from black, chestnut, gray, and dark brown. Retailers can offer hotter styles for the more fashionista women out there. Wholesale biker boots in black are available for $246.00/case while wholesale casual boots, embellished with studs and made from faux crocodile skin, cost a low price of $384.00 for a pack of 12.
For the summer and spring lovers, women can still purchase summer and spring style wholesale shoes. Check out CERIWholesale.com's On Sale Section to get huge discounts on wholesale shoes such as wholesale wedge sandals, wholesale women's pumps, and wholesale platform sandals. For only $72.00/case, customers can purchase beaded wholesale wedges. With these huge discounts, women can also spend a low price of $120.00/case and own pairs of wholesale platform shoes with flowers and rhinestones.
As an authority for fashionable wholesale shoes, CERIWholesale.com has proven itself to be a reputable distributor of high quality wholesale women's shoes. From wholesale women's boots to wholesale women's pumps, CERIWholesale.com guarantees clients competitive pricing on wholesale shoes, allowing resellers to sell wholesale shoes quickly at a good profit. Sign up with the company's mailing list or visit CERIWholesale.com's official blog for the latest designs in the world of wholesale shoes.
About Ceriwholesale.com
Headquartered in the City of Industry, CA, Ceriwholesale.com is a well-established distributor of wholesale shoes. They offer thousands of products, with new items added on a weekly basis. The main objective of the company is to offer the highest quality wholesale products at the most competitive prices. Ceriwholesale.com is an online wholesale distributor of fashion products, so purchasing of individual items is not available. This Press release is produced by Cybertegic.com – an Internet marketing services agency that specializes in search engine optimized press release marketing (SEO marketing).
###