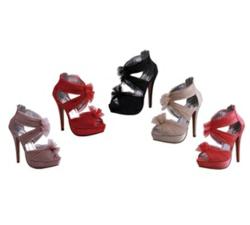 City of Industry, CA (Vocus/PRWEB) March 14, 2011
Spring is the perfect time to play around with new looks, reinventing or redefining old ones. Ceriwholesale.com, an online depot of wholesale shoes, is celebrating spring by launching the latest styles of wholesale shoes that are perfect to wear this season. Featuring a collection of seductive colors such as red and black, the hottest arrivals of wholesale shoes from Ceriwholesale.com are pairs to die for.
For as low as $96.00/case, retailers can avail of wholesale thong sandals – chic and stylish, yet seductive enough to reveal the sexy feet of its lucky wearer. Featuring rhinestone gems on the thongs, the wholesale thong sandals are available in black, white, and silver. A similar style but with extra flair, purchase the wholesale flat sandals embellished with ribbons for only $135.00 for a case of 12 pairs. Wholesale wedges come at a price of $211.50/case and are perfect for women who want to look glamorous without overdoing it.
Sexier wholesale shoes that ought to be checked out are the open-toed wholesale strappy sandals in foxy coral and olive/brown, available at $174.00/case and $198.00/case, respectively. Wholesale strappy sandals are the ultimate finish to a lovely and elegant dress for celebrating romantic evenings or formal events. Other wholesale evening shoes available are the wholesale high heels in red and silver for $114.00/case and $168.00/case, respectively.
Other hot trends include our wholesale prom and evening sandals that are ideal for special occasions like parties, proms, or romantic evenings. We keep our unique yet popular collection of stylish prom and evening sandals up to date with the world of fashion by researching current and future trends. Step into style with our wholesale fashionable prom and evening sandals that compliment almost any dress.
Ceriwholesale.com also offers newly-reduced prices on wholesale shoes. The Clearance Section is where visitors can browse through discounted pairs of wholesale sneakers, wholesale over-knee boots, wholesale wedge pumps, wholesale flats, wholesale pumps, and more. All in stock items are guaranteed to be shipped out in 24 hours.
As a reputable distributor of wholesale shoes, Ceriwholesale.com also carries brands such as Wild Rose, Bumper, and Shully's Kiss for a wider variety of styles. Partner up with Ceriwholesale now to enjoy benefits such as a low minimum order requirement, regularly updated collections, and different shipping options for speedy delivery. Join Ceriwholesale.com's mailing list to receive exclusive deals or visit the wholesale shoes distributor's official blog for the latest tips, styles, and updates in the world of women's shoes.
About Ceriwholesale.com
Headquartered in the City of Industry, CA, Ceriwholesale.com is a well-established distributor of wholesale shoes. They offer thousands of products, with new items added on a weekly basis. The main objective of the company is to offer the highest quality wholesale products at the most competitive prices. Ceriwholesale.com is an online wholesale distributor of fashion products, so the purchasing of individual items is not available. This press release is produced by Cybertegic.com – an Internet marketing services agency that specializes in search engine optimized press release marketing (SEO marketing).
# # #