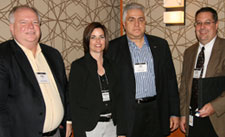 Your warehouse is doing an awesome job of securing the boxes so we do not get damaged product...
Chicago, IL (PRWEB) November 28, 2012
Brenda Marasa, Packaging Wholesalers General Manager, discussed quality processes and partnerships with shippers and logistics experts during the NASSTRAC Shippers Panel Discussion. Over 90 experts attended the event in October which was held on the McDonald's campus in Chicago. Read the full NASSTRAC story here. When shipping wholesale boxes, the Packaging Wholesalers has a proven formula for success with both carriers and customers. Quality control improves logistics by reducing damage for customers while increasing efficiency for carriers.
"Wholesale packaging can be tricky when dealing with nationwide logistics. Customers need shipping boxes delivered in a timely, damage-free, but cost-effective manner. Logistic providers must provide these services and still be profitable." says Marasa. The Packaging Wholesalers employs numerous quality control measures to facilitate quality for both customers and carriers.
Wholesale boxes are carefully picked and wrapped tightly to pallets, reducing the potential for damage. Every pallet is weighed and labeled so carriers have accurate information on the pallet and bill of lading. The bill is also broken down by weight into every NMF commodity code and subcode contained in the shipment. "These quality control measures reduce time on the dock and reduce billing questions for carriers. Exceptions cost everyone, so why not eliminate them wherever possible?" asks Marasa.
"Most of our carriers have cited us as one of their most sophisticated and problem-free accounts. Our customers recognize us for our timely and damage-free delivery on almost every shipment." - Marasa
One Packaging Wholesalers distributor, Cindy K. states, "...I would like to say thank you for 'no headache' shipments coming in. Your warehouse is doing an awesome job of securing the boxes so we do not get damaged product. Thanks so much!".
With pricing that rivals or beats most in the industry, The Packaging Wholesalers has quickly earned a reputation within the packaging industry as the premier partner for corrugated boxes and packaging supplies for distributors.