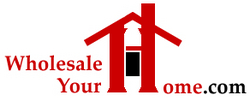 Spring Hill, FL (PRWEB) July 9, 2008
Wholesaleyourhome.com offers customized video services to weave the pictures and facts you wish to highlight about your property into a fluid, narrated Virtual Open House of your home; allowing interested parties to experience the best characteristics and amenities of your property with a click of the mouse. These services will help short sales, foreclosures and motivated sellers sell their homes quicker by increasing each property's online presence, bringing in national and international buyers with a potential of over one million viewers. The best part is: users can even list their property for free. Click here for a sample view.
WholesaleYourHome's Video Open House (comprised of photos provided by the seller) gives a voice to each homeowner, allowing him/her to tell the story of the property, highlight important details, and reveal his/her current situation (as the seller sees fit). Banner messages can be added to attract buyers, announcing whether it is a short sale, motivated seller, in foreclosure, for sale by owner (FSBO), or looking to lease option home. Founded by Real-Estate Guru Kathy Schmidt, who has a true heart for the homeowner in these difficult times, WholesaleYourHome provides a platform for sellers to inform potential buyers of their current situation; a service no other real-estate advertiser offers in such a personal or detailed way. Click here to view a Video Open House sample.
Video Open Houses are placed by WholesaleYourHome on highly trafficked web sites such as YouTube, Google, Yahoo, and Zillow. Sellers also have the option to upload a video presentation that they have created themselves to WholeSaleYourHome's web site, free of charge.
WholesaleYourHome offers email templates which feature user-chosen banner headings, photos, price and description with direct buyer contact information; making the normally grueling process of gathering information about available properties simple and effective for prospective buyers. An email blast of the property listing is sent to 2500 targeted, potential national and international buyers, currently in the market for properties that match your specific property's description, for free. WholesaleYourHome's services can be used in addition to a Realtor or solo.
WholesaleYourHome.com's goal is to change the market, making it a more positive atmosphere for both buyers and sellers of all circumstances. Rather than throwing up their hands in defeat, WholesaleYourHome has created a solution which is effective, accessible and simple for all.
Press Contact:
WholesaleYourHome.Com
13003 Spring Hill Drive
Spring Hill, FL 34609
352-688-3733
info(at)wholesaleyourhome.com
http://www.WholeSaleYourHome.com
Wholesale Your Home, Inc. offers a solution for motivated real-estate sellers who want to control the sale of their property without listing contracts.
Click Here to Visit their Website Now
Click Here to Watch their Press Release Video
###