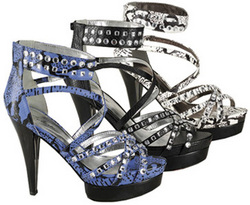 The second reason for J&M Footwear's popularity and success is due to the competitive pricing of their shoes...
Miami, FL (PRWEB) June 5, 2010
J&M Footwear, Inc. (http://www.wholesalecloseoutshoes.com), a Miami based wholesale shoes distributor, has just added hundreds of new styles to their collection, which consists of wedges, beautiful, stylish, open toe platform pumps, dress sandals, slingbacks, and slides. These styles are flying out of their warehouse at a rapid pace as retailers are obtaining what they know their customers desire and what will turn a quick profit.
In 2006, J&M Footwear, Inc., a company whose founders have 15 years in the retail shoe business, opened its doors to the public, and utilized and enhanced their skills in the wholesale shoes arena. Ever since, they have been catching the attention and earning the business of shoe retailers around the world.
There are several reasons for this. The first one being that J&M Footwear, Inc. has a wide variety of styles available, so there is a very good chance that they have something available for you and your customers. Their line of wholesale shoes consists of women's flip flops, boots, dress sandals, slides, slingbacks, pumps, wedges, and ballerina / ballet flats. All these are women's styles, and though a majority of the line is concentrated on women, the wholesale shoe supplier has not forgotten about men's footwear. They have a small, but excellent, quality rich line of wholesale men's shoes.
The second reason for J&M Footwear's popularity and success is due to the competitive pricing of their shoes, which range from cheap wholesale shoes and closeouts that start at $2.50, for businesses on a tight budget, to higher priced items, such as those with rhinestones and those that are in immediate, hot demand. Furthermore, in order to remain competitive and to always have the freshest, trendiest styles, J&M Footwear adjusts their prices when certain conditions are met and when there are changes in the market. So, those beautiful pumps that you may have wanted to purchase this week, but due to budget constraints didn't, might be available at a reduced price in the future. However, when you do spot something that will be an excellent addition to your collection, don't pass it up or wait too long, because once a style is sold out, it's gone for good.
Another area regarding pricing that keeps businesses coming back time and time again for more shoes are their discounts that are given for large orders. Note: Discounts, if offered, and the amount offered for an order, are given at the company's discretion and include numerous factors, such as the size of the order, the styles being ordered, and the regular price of the shoes.
A third reason for J&M Footwear's popularity is that unlike other businesses which require you to purchase a set number of cases or to spend a certain predefined, minimum dollar amount, J&M Footwear has a no minimum purchase requirement. So, if you are testing / sampling their merchandise, not sure of what styles perform best at your location, or simply prefer to take the slow, but steady and sure route, that is just fine. If on the other hand, you are a retail shoe business that is very large, prefer to make a big impact on opening day, want to offer your customers numerous and diverse options for purchase, or simply want to take advantages of discounts offered on large orders, that is also just fine. Either way, they will be waiting and ready to serve you.
Orders are immediately processed and shipped worldwide. Those being delivered in the United States arrive within one to seven business days. Go ahead and visit J&M Footwear's website at http://www.wholesalecloseoutshoes.com . Read the Frequently Asked Questions to get better acquainted with their policies. Stay up to date with the latest news and arrivals by signing up for J&M Footwear's wholesale shoes mailing list, and find out what the buzz is all about.
# # #