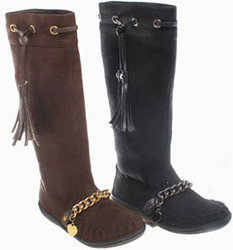 We are very proud of the fact that we can supply stock which is very difficult to get hold of. Whether you are a distributor of wholesale shoes Miami, or are overseas in the United Kingdom, we are delighted with the success the new designer branded overstock shoes wholesale, lines have brought us
New York, NY (PRWEB) September 18, 2008
Worldwide wholesale shoe distributor - Shoenet.com announces their newly available wholesale designer shoes department!
The biggest name in wholesale shoe distribution, Shoenet.com has expanded into the arena of wholesale designer overstock shoes.
New York based Shoenet.com, who are well known in the footwear industry as market leading wholesale shoe suppliers, have expanded their product selection to include wholesale designer shoes and sneakers overstock brand name shoes. The highly sought after area in women's wholesale shoes include names like Steve Madden shoes, Nine West shoes, Vicini shoes, Casadei shoes, Michael Kors shoes and more, while the men's overstock styles, which include Wholesale Nike Shoes and some jordans, Nike, Wholesale Adidas, Wholesale Puma, Wholesale Reebok, Wholesale Converse, Wholesale New Balance have already been staggeringly popular for the company. These cheap wholesale shoes are available on the distributors website Shoenet.com. The items are available for purchase in bulk, either by small pallet, or in truckload.
Shoenet, who have in the last month alone added 700 new styles of fall fashion footwear, wholesale women shoes, wholesale branded sneakers, wholesale brand name couture dress shoes, and a large number of wholesale winter boots to the website, are adding hundred of new styles a week to their site Shoenet.com. Shoenet.com had reached an agreement with the nation's leading department stores to offer their overstock designer footwear to the wholesale public. They are supplied in quantities ranging from 10 pairs to a full truckload of 5,000 pairs. "We are very proud of the fact that we can supply stock which is very difficult to get hold of. Whether you are a distributor of wholesale shoes Miami, or are overseas in the United Kingdom, we are delighted with the success the new designer branded overstock shoes wholesale, lines have brought us" said Haim Mizrahi co-founder of Shoenet.com
Shoenet.com, who have been rewarded with shining reviews and features in top wholesale websites are also well-respected for the niche services they offer customers, such as products which will ship out 48 hours after purchase, and free shipping on certain brands. They do more than just global shoe distribution, they also offer their customers anything they might need for their Shoe Store, such as shoe display fixtures, wholesale handbags and a very informative "how to open your own shoe store" section on the site.
About us
Shoenet, who offer thousands of styles in their instant order website, guarantee complete customer satisfaction to small shoe stores and large shoe distributors alike. Orders can be placed online at http://www.shoenet.com, by phone at 877-A-1-Shoes, or local or by fax at . Shoenet.com is a wholesale shoes website; individual pairs of shoes are not available for retail purchase.
Contact:
Shoenet.com
info@shoenet.com
877-A-1-SHOES
###