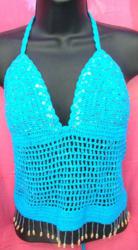 If you want to know who we are, what America is, how we respond to evil, that's it: selflessly, compassionately, not afraid."-President Obama
Blaine, Wa (PRWEB) April 18, 2013
Fashion clothing supplier Apparel & Sarong wholesalesarong.com adds trendy looking crochet bra top to its wholesale women clothing catalog.
Wholesalesarong.com today shows off attractive wholesale crochet bikini freshly imported from Indonesia in a press event. The lot of wholesale crochet clothing exhibits impeccable needlework and one can only admire the quality of craftsmanship on display.
Apparel & Sarong Wholesalesarong.com is the leading supplier of cheap wholesale products in America and Canada. The company was originally set up in 1996 as a modest web based distributor and it has since grown to its tremendous size today, serving over 10,000 wholesale customers in US, Canada and worldwide. In addition to wholesale garment products, the company also supplies wholesale jewelry, watches, sunshades, home improvement products to retailers in both countries.
"The bras, panties and bikinis are among the most intimate components of a woman. Naturally you want these to be comfortable as you spend long hours beneath them. Our wholesale crochet clothing is made of natural cotton, to make sure of the comfort factor. Just as important, this material choice is also light weight and resistant to weather, make it ideal catch some breeze along the beach or just do the lapses on the neighborhood swimming pool," so says the spokesman of wholesalesarong.com.
The range of crochet clothing does not just impress on the practical department. It is visually appealing as well. Comes in multiple colors and patterns, there are wide choices to choose from, depending on one's fancy and fashion sense. The quality control on the needle work is excellent in term of consistency, bearing in mind that these are all man knit rather than machine knit. But perhaps the biggest dealmaker is its amazingly low price. Consistent with the philosophy of wholesalesarong.com in delivering low cost and fine quality merchandize, the products here are tagged with low price. Probably one of the cheapest consumers can find in the market. To appreciate the breadth and depth of the product range, and how cost effective these products are, check out the company website.
Wholesalesarong.com sells its wholesale merchandises through the extensive network of retailers in US and Canada. All orders are shipped within days from its centralized warehouses. The standard delivery mode is via UPS normal ground. The company also entertains special requests on alternative shipping mode, which is helpful if retailers are not in continental America. Find out which other destinations the company delivers to by checking the website of http://www.wholesalesarong.com.
Company Info:
http://www.wholesalesarong.com Apparel & Sarong is a US and Canada wholesale distributor supplies Bali arts, clothing, fashion accessory, jewelry, dresses, sarong beach wear apparel, musical instruments to retailers and distributors. Products include cheap wholesale clothing, swimsuit cover up sarong, scarf, shawl, halter sundress, summer fashion tops for plus size women, handkerchief hem dress, Kimono summer dress, Hawaiian tropical women's sun dress, casual dress, Kimono caftan, maxi dress, bohemian dress, hippie apparel, batik garment, mini skirt, pants, dancing wear, didgeridoo, djembe drum, semi-precious gemstone stone jewelry, costume jewelry, sterling silver pendant, charm, earring, bracelet, necklace, natural organic jewelry, body jewelry, anklet foot jewelry, toe rings, foot wear jewelry, fashion accessory, handbag, barrette hair clip, hair accessory, affirmation banner, bedcover, bangle watch, pocket watch, home decoration, garden supply and Bali handicraft. For product details please go to their online wholesale catalog at http://www.wholesalesarong.com/usa-wholesaleclothing.htm.