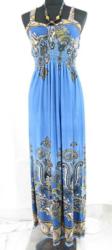 "Happiness is not something ready made. It comes from your own actions." ― Dalai Lama
Blaine, WA (PRWEB) January 23, 2013
Wholesalesarong.com announces the arrival of new sundresses as additions to their wholesale clothing products for the coming spring season. The company anticipates its extensive range of sundress to spread head its charge in the competitive wholesale market in continental America. There are plenty of choices, from plain color designs to floral tropical prints, V-neck to strapless tube top. Most of these fabrics are made of polyester, spandex and cotton mixture to ensure comfortable wear under hot weather. The new sundresses are sourced from Chinese and Indonesian manufacturers so that the products remain cost effective and only the finest crafted products are shipped to North America, as they all have to pass the tightest scrutiny of the company's quality control team.
Clothes wholesale distributor Wholesarong.com was established in 1996 and today it is one of the biggest apparel distributors in North America serving thousands of retailers and resellers in US and Canada. All transactions are conducted in local currency (in USD or CAD depending on merchants location) and all deliveries are made out of its centralized warehouses. This has provided a big boon to retailers nationwide, as they need not worry about fluctuation in foreign exchange or track shipping routine for their overseas supplies. The company imports most of its ware from the East but deliver products to retailers in normal UPS ground from the warehouses. In addition to garment products, the company is also the biggest wholesalers in trendy fashion jewelry wholesale, watches, gifts, and fashion accessories.
"This latest catalog is indeed interesting. First off, we understand the need for the consumers to feel comfortable under the attire, as the weather turns progressively warmer. The market would appreciate most of these garments are made of cotton, rayon, polyester and a sprinkling of spandex materials. So we make sure we satisfy this most basic need of the consumers. We also offer plenty of choices, in term of color selection, designs patterns and cuttings and of course fashion trends and fashion senses. We get our ground pretty much well covered. There is the classical plain color and there are all these printed with bold color choices and fanciful designs. There are the simple wraparounds like sarongs and scarves, and one can also find easy to slip in maxi dress. This batch of products certainly embodies both simplicity and elegance. It has always been our endeavor to provide the market rich choices and I am glad we have done this again," said the company spokesman.
Indeed the statement is not overblown. The samples the company puts on display show off models on its various designs. There are the excellent Bali made lady's dresses included caftans, rayon tube top women's dress, plus-size ponchos, halter top beach sun dresses, Kimono caftan draped maxi bohemian dresses, hippie bohemian halter long dress, bandeau top dress, beach wedding dresses, Hawaiian paisley floral maxi dresses, Kimono blouse tops, sundresses, short dresses, maxi long dresses and shirt dresses. For more elaborated fashion sense, look no further than the fashion top with sequins and embroidery. This can be worn as a top or a short skirt; consists of two layers, outside is black see through fabric, and inside is the color fabric. For people who prefer no-fuzz design, plain solid color tube top summer dresses can be striking in its own quiet way.
Company Info:
Apparel & Sarong is a US and Canada wholesale distributor supplies Bali arts, clothing, fashion accessory, jewelry, dresses, sarong beach wear apparel, musical instruments to retailers and distributors. Products include Bali Indonesian pareo, Celtic sarong, tie dye skirts, African kanga, Caribbean printed Aloha Hawaiian shirt, didgeridoo, rainstick, djembe drum, rattle, shaker, maracas, thumb piano, rasta jewelry, reggae clothing, hippie apparel, gemstone jewelry, organic jewelry, pendant, charm, earring, bracelet, necklace, silver jewelry, maxi dresses, bohemian dresses, mini skirts, kaftan, pants, dancing wear, , boho skirts, lounge wear, plus size poncho, horn bone wood organic jewelry, handmade jewelry, body jewelry ear plug, anklet foot jewelry, semi-precious stone, gemstone ring, fashion shawl, jewelry scarf necklace, handbag, barrette hair clip, hair accessory, affirmation banner, bedcover, bronze jewelry, bangle watch, pocket watch, organic piercing jewelry, bone spiral, water buffalo horn jewelry, hanging claw, batik apparel and handicrafts made in Bali Indonesia.