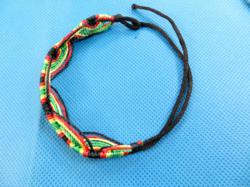 Blaine, Wa (PRWEB) June 12, 2013
Wholesalesarong.com today announces that its latest catalog has a predominantly hippie theme, with reggae Rastafarian bracelets making up the bulk of this latest shipment. The company also reveals that the latest batch of products is imported from China, which earns a reputation of low cost manufacturing and decent quality products.
Wholesalesarong.com is acknowledged as one of the leading wholesale suppliers in North America. It was first set up as a wholesale distributor in 1996 with just a web presence, and it has since grown to its tremendous size today, serving over 10,000 wholesale customers in US, Canada and worldwide. Wholesalesarong.com is more than just a jewelry distributor. Its supplies include fashion jewelry, summer and winter clothing, footwear, watches, sun hats, home décor items, and more. The company enjoys extensive support from the network of retail stores, online retailers and novelty shop owners in both US and Canada.
"These Rastafarian bangles and bracelets represent the legacy of that great era. The bright and multi color scheme adorned by them demonstrate cheerfulness and rebellions at the same time. Additionally the fanciful and interesting patterns and designs show off abundant creativity. Just check out our Rastafarian leather bracelet and Jamaica reggae friendship bracelets. They adequately symbolize that great era we all missed," says the spokesman of wholesalesarong.com.
But the reggae theme is not restricted to just Rastafarian bracelets. The hippie spirit is permeated to other jewelry accessories as well. There are the belts and buckles, hippie bags, key chains, Rastafarian souvenir collectibles, reggae earrings, Rastafarian hats and dresses. Indeed the range is mind boggling, for comprehensive listing of this impressive Rastafarian gears catalog, please refer to the company's website.
The company delivers all orders from its centralized warehouses. The delivery of choice is standard UPS ground. For retailers outside of continental America, please refer to the company website on shipping modes and other details.
Company info:
Apparel & Sarong is a US and Canada wholesale distributor who supplies Bali arts, clothing, fashion accessories, dresses, and sarong beach wear apparel, and musical instruments to retailers and distributors. Products include cheap wholesale clothing, plus sized dresses, swimsuit cover up sarong, scarf, shawl, halter sundress, summer fashion tops for plus size women, handkerchief hem dress, Kimono summer dress, Hawaiian tropical women's sun dress, casual dress, Kimono caftan, maxi dress, bohemian dress, hippie apparel, batik garment, mini skirt, pants, dancing wear, pashmina shawls, polyester scarf, infinitive scarf, chiffon scarf, double pendant jewelry scarf necklace, lightweight beach wrap, didgeridoo, African style drum, semi-precious, costume jewelry, sterling silver pendant, horn earring, bone ear plug, wood expander, body jewelry, organic plugs earring, charm, seashell earring, bracelet, necklace, natural organic jewelry, body jewelry, toe rings, fashion accessory, handbag, barrette hair clip, hair accessory, affirmation banner, bed cover, bangle watch, pocket watch, home decoration, beach sun hats, garden supply and Bali handicraft. For product details please go to their online wholesale catalog at http://www.wholesalesarong.com.