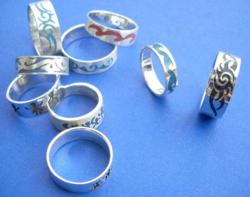 "There is nothing that wastes the body like worry, and one who has any faith in God should be ashamed to worry about anything whatsoever" --- Mahatma Gandhi
Blaine, WA (PRWEB) April 01, 2013
Wholesale jewelry supplier Apparel & Sarong wholesalesarong.com adds new sterling silver rings made in Thailand to expand its comprehensive range of wholesale jewelry catalog. Sterling silver earrings, pendants, bracelets and necklaces twinkle in the latest product launch from wholesalesarong.com but the main attraction is obviously focused on the massive range of 925 sterling silver rings on display. The range is fairly diversified here; from hippie style 925 stamped sterling silver Celtic knots rings to trendy crystal wedding style rings, and from classic plain silver band to mother of pearl sea shell or genuine gemstone set in unique designed 925 sterling silver rings.
Apparel & Sarong Wholesalesarong.com, which has been popularly associated to a dazzling array of wholesale handmade jewelry, has outdone itself again by bringing in yet another range of new earrings, bracelets, and necklaces made in Thailand among its sterling silver jewelry wholesale products. Established since 1996, wholesalesarong.com has established a fine reputation within the wholesale distribution in both US and Canada market. Wholesalesarong.com is more than just another wholesale jewelry distributor, as it also supplies garment products, watches and novelty items.
The leading wholesales distributor of jewelry products has unveiled its latest catalog of sterling silver jewelry; a result of exhaustive sourcing effort in the east, and bring the products back to America with finely crafted products at cost effective prices for its customers. For consumers searching for exquisitely designed jewelry, they would not run out of choices if they step foot into any of the retailers who get their stocks from wholesalesarong.com.
The latest catalog is not restricted to just the traditional designs, it contains some of the forward looking and cutting edge jewelry accessories as well. For example you can find tropical themed necklaces, bracelets and pendants. In fact, the timing is impeccable as the weather starts to turn warm, consumers would have more chance to project a statement about of themselves when they no loner take shelter under thick winter clothing.
Retailers would love the extensive range that is on offer. With a mind-boggling number of designs and cuttings to choose from, it would be a challenge to find something that they don't like. Indeed, looking at the samples on displays, how could one resist such beauties like sterling silver heart selection pendant, or that religious cross pendants made from 925.sterling silver. Of course, there are more to these. Check out the company website, WholesaleSarong.com, to have full appreciation on what are coming into our neighborhood. The range of celebrity fashion jewelry which includes celebrity costume jewelry, cz jewelry, silver jewelry, pendant sterling silver necklace jewelry, silver necklaces bracelets anklets, silver gemstone jewelry, etc would impress you.
For a more elaborated listing, please check out the website of wholesalesarong.com. The company delivers all orders through normal UPS ground unless special instruction is received. For countries outside continental America, please refer to the website for countries the company delivers to and the corresponding shipping arrangements.
Company Info
Apparel & Sarong is a US and Canada wholesale distributor supplies Bali arts, clothing, fashion accessory, jewelry, dresses, sarong beach wear apparel, musical instruments to retailers and distributors. Their sterling silver jewelry products include cz silver earring, mother of pearl silver earrings, Celtic pagan earrings, turquoise earrings, Balinese hoop earrings, semi-precious gemstone pendants necklaces, seashell bracelets, Marcasite sterling silver pins and brooches, silver snake chains, love heart jewelry charms and more. Their wholesale clothing products include Bali Indonesian pareo, Celtic sarong, tie dye sarong, African kanga, Mundu Pareau, Sri, Lungi, Dhoti, Canga, Surong, and Lava-Lava, jewelry necklace scarves, shawls, polyester scarf, infinitive scarf, plus sized dresses, swimsuit cover up sarong, scarf, shawl, halter sundress, summer fashion tops for plus size women, handkerchief hem dress, Kimono summer dress, Hawaiian tropical women's sun dress, casual dress, Kimono caftan, maxi dress, bohemian dress, halter top beach dresses, handmade crochet clothing, mini skirts, plus size clothing caftan, pants, dancing wear, sundresses, poncho, Caribbean printed Aloha Hawaiian shirt. More information can be found on their website http://www.wholesalesarong.com.