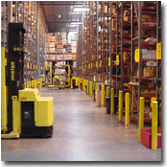 At Lion & Lion Enterprises, we buy wholesale computer parts, gadgets, accessories and more from only the best manufacturers in the US, China and other countries around the world
Miami, Florida (PRWEB) November 16, 2012
Computer wholesaler, distributor, general trading, hardware supplier and electronics wholesale company Lion & Lion Enterprises announced today that it has expanded to a larger warehouse as a result of increased sales and demand.
Lion & Lion Enterprises' new global headquarters is conveniently located just north of the Dolphin Expressway (State Road 836) at 1701 NW 87 Avenue, Suite 200, in Miami, Florida 33172.
"At Lion & Lion Enterprises, we buy wholesale computer parts, gadgets, accessories and more from only the best manufacturers in the US, China and other countries around the world," commented Osvaldo Leon. "And it's because of our reputation for top quality, great service and especially for offering the best prices in the country, that we found it necessary to expand into a larger warehouse. Despite slowdowns in other sectors of the economy, our business is booming, and we're adding new customers on a daily basis."
Wholesale computer parts and accessory buyers of all sizes, including small, medium and enterprise-level businesses, can connect with Lion & Lion Enterprises online at http://www.lionlion.com, call (305) 463-8181, or email info(at)lionlion(dot)com.
About Lion & Lion Enterprises
Lion & Lion Enterprises, Inc. is a wholesaler distributor of a wide range of products including: systems, computer components, peripherals and CPU cooling fans. We are the number one distributor of original and branded cooling fans in Miami and Latin America. Since we are wholesalers, our philosophy includes passing on the savings to our customers and moving more quantities. One of our many distinguished services includes delivering our product to our customer's Miami area facility without a surcharge fee. In addition, we provide premium products and warranties for our customers. Because we understand the importance of shipping, we have specialized in the logistics for Latin America. Learn more at lionlion.com.