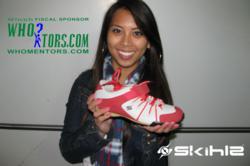 I just gave some shoes. What a great idea for those kids you have! @ErinBurnett, CNN Anchor, OutFront
(PRWEB) June 09, 2012
In advance of the anticipated release of the NIKE Air Yeezy 2, WHOmentors.com, Inc. seeks to give young athletes access to free skihlz branded sport shoes necessary to play many different sports to become well-rounded competitors. While footwear is essential technical equipment and almost part of an athlete, new gear is expensive.
Sports related costs include equipment and uniforms. With the addition of team fees divided according to age and ability and travel expenses, it's the clear beginning of the wallet-gouging bill for parents who want their kids involved in athletic activities. And, not all parents can realistically budget for the financial burden to purchase a new pair of NIKE YEEZY 2's designed by non-athlete Kanye West, outfitted with the latest technology and luxurious materials.
CNN's Erin Burnett reported on Wednesday, June 6, 2012, one pre-production collectable pair sold on eBay for a staggering winning bid of $90,300! Imagine wanting to replace every couple of months one pair of fashionable, limited edition sneakers that normally retail for $245? What are kids supposed to do?
This is where the giving public comes in. One way of reducing costs for responsible parents and increasing youth participation in amateur or recreational sports is to ask every Facebook account holder to visit http://WHOmentors.com/giveshoes and contribute $25 online so an eligible kid can receive a pair of skihlz branded shoes. WHOmentors.com, Inc. will fit young athletes with free skihlz branded athletic footwear participating in annual sporting events like the International Children's Games or high-level competitions that follow traditional four-year cycles like the Youth Olympic Games.
CNN's Erin Burnett, anchor of OutFront, a nightly news program that reports on the people, places, and events that lead the global conversation, is known for interacting with her fans and sent the Tweet, "I just gave some shoes. What a great idea for those kids you have!" after donating $250.
https://twitter.com/ErinBurnett/status/210759843051618305
The world would have heard about this program before but the April 2007 segment on HBO Real Sports featuring Rauhmel Fox, a 1993 Graduate of the United States Air Force Academy and the skihlz shoes in contrast to Starburys by Stephon Marbury (currently playing for the Beijing Ducks in China) was cut to make room for Juan Williams, a political analyst for Fox News Channel.
http://WHOmentors.com/hborealsports
The one element of a team uniform that a parent or a kid can control in most cases is the shoes. Although there is a wide variety of options, the hard-to-get brand choice is meant to standout from the crowd and to build status. Shoes have become a part of social identity and are reflective of an individual's feelings and core values.
To move kids to action, the volunteer staff for WHOmentors.com, Inc. relay a solid message, "skihlz, knowledge, and talent. These are three distinct elements of individual performance. Combined together, they create an enormously potent compound, you!"
The shoes are aptly called, skihlz (pronounced skills) because mentor practitioners are in the business of preparing kids for the next level of competition. Parents, on the other hand, are in the business of preparing kids for the next challenge of life.
Instead of conducting shoe drives on behalf of distressed parents for gently-worn shoes or dismissing the top shoe marketers, WHOmentors.com, Inc. is the first nonprofit 501(c)(3) tax-exempt organization to develop its own trademark brand of quality and comfortable footwear for international distribution to eligible beneficiaries. The team of volunteer staff and executive trainees endeavors to remind everyone of the most basic concept of economics is want vs. need.
A want is something people would like to have. It is not absolutely necessary, but a pair of NIKE AIR Yeezy 2's would be a great thing to have, if they are affordable. However, a need is something people must have, something a person can't do without.
A good example is found in the tagline for the skihlz brand, "Either you have 'em or you don't."
For more information, e-mail Rauhmel(at)WHOmentors(dot)com or phone/SMS Text 415-373-6767.
A video is available at http://youtube.com/whomentorsdotcom.
About WHOmentors.com, Inc.:
WHOmentors.com, Inc. is organized and operated as a nonprofit public benefit §501(c)(3) research corporation primarily engaged in interdisciplinary scientific applied research to gain knowledge or understanding to determine the means by which a specific, recognized need may be met.
As a §509(a)(2) publicly supported organization seeking qualification as an Accredited Investor, WHOmentors.com, Inc. receives few gifts or grants from governmental units, and normally receives gross receipts from permitted sources, and not more than one-third of its financial support from gross investment income.