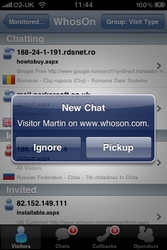 Ecommerce is constantly evolving and competition is increasing, for online retailers of any sort it is now more important than ever to be able to offer as many forms of contact as possible to their website visitors
Orlando, FL (Vocus) October 1, 2010
Following an earlier release of an iPhone App Parker software today announced the release of a new iPad application for their Whoson software which now enables website owners to engage in real-time with their website visitors anywhere at any time, to help improve online customer engagement and online sales.
The release of the WhosOn iPad App is available exclusively through the app store. The application is a breakthrough for live chat providing website owners the ability to chat to website visitors in real-time at anytime from anywhere without the need for a PC.
The iPad app enables website owners to view current live visitors on their website the number of pages they have viewed, current location and more. Website owners can accept or reject chats requests on the move and can even send out proactive invites to potential purchasers to help improve online conversions and customer support to ensure repeat visits.
"Ecommerce is constantly evolving and competition is increasing, for online retailers of any sort it is now more important than ever to be able to offer as many forms of contact as possible to their website visitors," stated Ian Rowley, Business Development Manager for Parker Software. "WhosOn a powerful live chat and live analytics platform, which enables website owners to see their site visitors in real-time and engage with those visitors via chat is being widely adopted, the iPad app is a natural extension to our platform enabling website owners to be more proactive to help improve online sales now regardless of physical location restriction."
Key Features Include
Real time live chat
Proactive chat invites for site visitors to improve online engagement
Chat notification messages
Analytics to identify site visitor
Analytics to show length of time on site, location page views and more
Referring URLS and Keywords
The ability to monitor chat sessions
Call backs
Handle multiple chats simultaneously
The WhosOn iPad and iPhone app is available for any organisation utilising WhosOn priced at $16.99 available directly via iTunes or from the iPhone itself.
http://itunes.apple.com/gb/app/whoson-live-tracking-and-chat/id380485649?mt=8
###