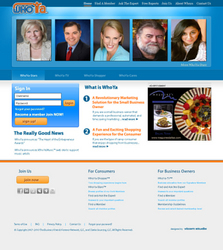 The foundational principle on which WhoYa was built can be condensed to one word...Compassion
Dallas, TX (PRWEB) October 5, 2010
WhoYa™ has launched an on-line business community designed to support the marketing efforts of small business entrepreneurs, worldwide. "This is a breakthrough for small business owners who are currently spending their valuable time canvassing the web for new customers," says Steve Gallegos, the Company's Co-Founder, and CEO.
A strong recent trend among independent business owners is to join on-line social and business networks, hoping to find new customers from among the millions of users attracted by those sites. According to Gallegos, "a vast majority of small business owners are frustrated by the fact that their 'virtual friends,' although willing to link profiles and share vacation photos, have no interest in receiving their business marketing materials". The problem, adds Gallegos, is that "existing web sites like Facebook and Linked-In, were never designed to serve as business marketing vehicles."
"On-line business networking should not be confused with on-line social networking," says Co-Founder Joshua Osteen, and the Company's Chief Marketing Officer. "Facebook became extremely popular because it appealed to a generation who sought little more from the experience beyond sharing their tastes in music, and their personal photos. Over time, Facebook began attracting older users who fancy the ability to keep in touch with distant friends and relatives. Since the site was boasting millions of users, some enterprising individuals came up with the notion they could make money teaching small business owners to use Facebook and other sites to attract new customers. While this idea may look good on paper, it's like trying to drum up business walking through Disneyland. The problem is that people do not go to an amusement park looking to secure a new mortgage loan, or to find a reputable doctor," says Osteen.
The idea for WhoYa™ was born when Gallegos, then a commercial photographer, was searching for new ways to increase his business. Realizing that his monthly photography newsletter (offering photo tips and specials), had gone flat, he decided instead to profile his ten most trusted business friends. After e-mailing the newsletter to his list of contacts, Gallegos asked his business friends to forward the newsletter to their respective contacts. As a result, each of the profiled business owners received ten times the exposure they would have received had they sent a newsletter to their own list of contacts. This personal introduction and exposure to a warm consumer, says Gallegos, "is exactly what is missing from the vast array of on-line business and social networking sites currently available".
WhoYa™ differs from all other Internet based business networking solutions because it is based on existing relationships. Members are hand selected by other members, and are then introduced to each other's personal contacts via an automated video newsletter. Since each member send his or her newsletter only to the people they personally know, there is a greater than average open rate, and there is no "spam".
Consumers benefit from WhoYa™ by receiving a personal introduction to trusted and reliable sources of goods and services. They may search the website to view detailed member profiles, videos, and download free "How-To" reports written by members. Consumers will have the chance to win 'WhoYa-Bucks™' which is real money they can spend with any member of the network, and they will have a chance to rate the services of a member thus helping to maintain the integrity of the membership.
About WhoYa: WhoYa is owned by The Business Friends Forever Network, and Clarke Sourcing, which are Texas Limited Liability Companies. The Company is dedicated to the growth and development of small business owners, while offering consumers with education and a reliable source for the goods and services. The network web site address is http://www.whoya.net. For more information call (214) 995-7238.
Source: WhoYa
# # #