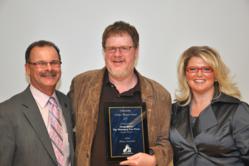 WHS Volunteer Marlene Rose has clocked over 2,000 hours in her two years of volunteering at the shelter.
(PRWEB) April 27, 2012
The Winnipeg Humane Society (WHS) honoured three of its departing board members at the Annual General Meeting on April 25, 2012. Manitoban veterinarian Dr. Nancy McQuade, John Youngman and Brent Thomas were all thanked for their lengthily contributions to The WHS Board, and for their dedication to animal welfare in Winnipeg.
Doug Speirs of the Winnipeg Free Press was given the Media Award, recognizing Doug's outstanding contributions to helping The WHS initiatives and projects. Mr. Speirs has acted as the Santa Claus for the annual WHS fundraiser; Pet Pics with Santa Paws for over five years, and regularly helps promote The WHS while volunteering his time for fundraising events.
The WHS also recognized volunteer Marlene Rose with the Volunteer Award, who has clocked over 2,000 volunteer hours in her two years of volunteering at the shelter. Mrs. Rose is instrumental with photographing The WHS adoptable animals, is a foster pet parent, and also performs assessments on cats for The WHS Meet Your Match program to determine their personality prior to placement in adoption.
The Employee Giving Award was bestowed upon the City of Winnipeg Employees and Retirees Charitable Giving Fund. They contributed $57,000 over the past 4 years to The WHS, and continue to support initiatives and programs at the shelter.
To download an online copy of The WHS report, please visit The Winnipeg Humane Society's website.
###
About The WHS:
The Winnipeg Humane Society is a registered charity and non-profit organization whose mission is to protect all animals from suffering and to promote their welfare and dignity. Funded primarily by donations, memberships and bequests, The WHS also offers pets and dogs for sale to the public. All pets offered for adoption and sale have been spayed or neutered, received necessary shots and treatments, and a behavioural assessment. If you'd like to learn more about dogs for sale or The WHS please visit http://www.winnipeghumanesociety.ca