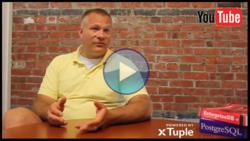 ...we were looking for a product that can be used across multiple platforms — Linux, Mac, Windows — it just doesn't exist. This is the first product that we have found that has a stable product and works across all those platforms.
Norfolk, Virginia (USA) (PRWEB) June 30, 2013
As the direct result of a tongue-in-cheek "Alpha (not Omega)" campaign targeting the world of inflexible, antiquated, and customer-indifferent legacy ERP vendors, xTuple saw an influx of new manufacturing- and distribution-centric partners and customers. As the company continues to make its mark as the next generation in the evolution of accounting and financial management software, at least twelve additions moved to xTuple from the closed source legacy vendor community.
The humorous campaign, featuring haunting images – an eerie graveyard full of tombstones – launched earlier this year in response to a serious situation in the ERP world. The impressive campaign results also prompted xTuple to announce its inaugural xTupleCon this October, the open source ERP global user conference, to build on the success of Partner-only conferences in 2011 and 2012.
The new partners come from regions across North America: Ontario, Canada, and Michigan, Illinois, Ohio, Minnesota, Louisiana, Tennessee, California, and Washington State in the U.S.
Several of those partners have already begun migrating their customers to xTuple, including a made-in-the-USA manufacturer of personalized and custom branded designs of both fine jewelry and logo-based recognition awards, an exposition services provider, and a century-old manufacturer of rugged industrial and consumer clothing.
CPC Consulting is the new xTuple Partner based in Illinois. CPC's president Paul Rolfes, whose company has represented a closed source Software Company since 1995, shared his reasons for joining xTuple in this video: http://youtu.be/_8i0-yblunE.
Says Rolfes, "What prompted our search for a new ERP solution — we were looking for a product that is a well-established ERP solution but also has source code. So that's why we came and looked at xTuple. Also we were looking for a product that can be used across multiple platforms — Linux, Mac, Windows — it just doesn't exist. This [xTuple ERP] is the first product that we have found that has a stable product and works across all those platforms."
"What really brought our interest to xTuple was A) it has the source code, open source and B) the fact that it will run across all those different platforms — Mac, Linux and Windows — and now with the [Mobile Web application] browser. Being able to actually get to a product via the browser and have it actually feed the same database that the in-house clients are going to see, that's important to us."
"Probably my biggest surprise [with xTuple ERP] is the level of Manufacturing. The manufacturing piece of the product is very in depth and very well thought out. In fact, you can tell that as initially we were looking at ERP solutions, manufacturing was part of it but it wasn't the big part of it. Now I can see where xTuple is actually huge in the manufacturing industry," said Rolfes.
Prompted by "end-of-life" pronouncements, the "Alpha (not Omega)" campaign consisted of invitations to professional ERP and technology experts – representing beleaguered legacy Software Company partners and users – to a series of webinars to explore a new beginning with xTuple ERP.
In preparation for the Fall 2013 xTupleCon, CEO Ned Lilly highlighted the role of the growing xTuple community: "You — the tens of thousands of dedicated ERP, CRM, accounting and technical professionals who use xTuple software — are our greatest single asset as we disrupt the cozy, bloated world of traditional ERP software," said Lilly. "You make our product better every day, and you keep us honest. In return, I hope you feel we provide a good value for your business and conduct ourselves in an open and transparent way."
Tweets:
#ERP news - legacy partners and customers flee the ERP Graveyard and flock to xTuple: http://ow.ly/muHmm via @xTuple
Former legacy software users vote with their feet, choose World's #1 Open Source ERP: http://ow.ly/muHmm via @xTuple
About xTuple
xTuple business management software gives growing companies control over operations and profitability. xTuple integrates all critical functional areas in one modular system: sales, accounting and operations – including customer and supplier management, inventory control, manufacturing and distribution – the powerful tools to Grow Your World®.
As a commercial open source company, xTuple works with a global community of tens of thousands of professional users. xTuple gives customers the ability to tailor solutions with multi-platform support for Windows, Mac, Linux and mobile as well as flexible licensing and pricing options. Connect with the company at xTuple.com, with the open source community at xTuple.org, and join the innovation conversation at NextBusinessBlog.com.
xTuple Supports Innovation
From blueprints to buildouts, xTuple helps foster startups in the heart of the Mid-Atlantic technology corridor between Research Triangle, North Carolina, and Washington, D.C. As a committed, passionate member of the Norfolk/Virginia Beach tech community, xTuple is a financial sponsor and mentor at accelerator HatchNorfolk.com, the StartNorfolk.com business-building weekend and other events where entrepreneurs showcase their ideas. Learn more at xTuple.com/events/techmeetup.
Reference the xTuple Style Guide at xTuple.com/xSG