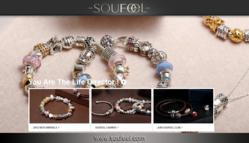 I can't stop ordering from this company! They are really great. Really good quality beads, I am so impressed. Thank you for my most recent order!
London, UK (PRWEB) June 11, 2012
Charm bracelet appeal tolots of people's preference with its unique style and the characteristic feature which can record unforgettable moments. But some products make most women step back because of their high price.
Founded in 20th March 2009, SOUFEEL does its best to satisfy the need of women who love jewelry. They adopted a web-promotion style to decrease costs and achieved an enormous following over the world with reasonable prices, various styles and incomparable good service. So far, the sales territories have spread across 65 countries.
SOUFEEL believes that smart women have a more rational consumer idea. "Buy the right thing instead of the expensive one" is their slogan. "After I had a purchase from SOUFEEL, I recognize that I had wasted my money before. On the SOUFEEL's web, I have more choices. Their products are not only inexpensive but fit any other brands of bracelet," one patron said.
SOUFEEL holds "You are the life director" as its design idea and thinks that everyone is a director of their own life and should follow their soul and feel their life. That's what SOUFEEL originates from.
Now, SOUFEEL announces the Charm bracelets 2.0 concept. The founder, Steven, says, "Our life is colorful and we should do our best to draw the picture of life with our own idea." Nowadays some brands only can attach Charms designed to specific bracelet, but it's not enough for people who love their lives. As a result, SOUFEEL has created Design Your Own Charms, which allows everyone to use their imagination, design their unique story and be the director of their own life.
SOUFEEL created their Facebook Fan page to give beading fans a place to gather and share their enthusiasm for the fine art of jewelry-making, as well as to learn new techniques and save money on their beading purchases.
"We encourage customers to check in on the Facebook Page often, because we're always uploading new pictures to our photo gallery, and we always like to reward our loyal customers with special deals to make our products even more affordable." Steven said.
Those wishing to find out more or wishing to purchase high quality charms, beads, and jewelry should visit http://www.soufeel.com.