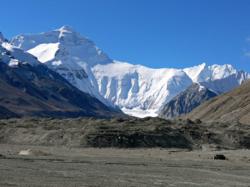 why shall I travel to Tibet?
(PRWEB) April 06, 2013
Much excitement has surrounded the recent lifting of the Tibet travel permit ban! As of April 1st 2013 the Tibet Tourism Bureau, along with other government agencies, began issuing travel permits. As spring comes to Tibet, so does perfect weather for travel. Tibet is a changing place; the slow paced traditional way of life is giving way to rapidly expanding cities. While a changing way of life brings a higher standard of living for many Tibetans, its unique cultural tradition will one day be a part of the past. For travelers seeking a taste of Tibetan culture, unadulterated by the encroaching modern world, now is the time to visit. Take a step outside Tibet's urban areas and travelers are likely to find a way of life that depends on agriculture and revolves around the season. These reasons for travel to Tibet can help travelers begin planning their trip!
1. The Dalai Lama encourages travelers to visit Tibet. Currently, Tibetans face hardships due to Tibet's unique political situation. On many occasions, the Dalai Lama has publicly expressed support for Tibet travel. His reasoning is that people should visit Tibet and tell the world what they see.
2. Gain cultural understanding. Quality Tibet travel agencies provide native Tibetan guides who are passionate about sharing where they come from. These guides are an invaluable resource for answering questions, gaining insight into cultural norms, and understanding the significance of cultural and historical sites that travelers visit while on tour. At the end of a Tibet tour, travelers will be surprised with how much they have learned.
3. Get in touch with nature. Tibet is home to some of the world's tallest and most famous mountains, including Mt. Everest and Mt. Kailash. While these mountains certainly are beautiful, their truly amazing qualities are their effects on the climate of vast regions. For example, the Himalayas play a critical role in bringing monsoon rains to South Asia and their glacial runoff is the source of some of Asia's most important rivers.
Tibet is a rapidly modernizing place: the cities grow constantly, shopping malls with name brand stores are popping up, and monks can be seen reading prayers from smart phones instead of prayer books! For travelers who want a taste of old Tibet now is the time to visit. With the travel permit ban lifted and winter giving way to spring, travelers are advised to plan ahead and book their Tibet tour soon.
Devin Moore provided this new release about why travel to Tibet. Devin is an Asia travel writer and independent economic analyst based in Springfield, Missouri USA. His economic research is currently focused on airfare pricing. Devin Moore works to spread awareness of Tibet and its people through publishing Tibet travel information.