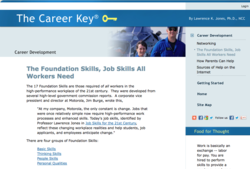 By learning about careers and Foundation Job Skills, student will look at their classes from a new angle.
Portland, OR (PRWEB) August 28, 2012
Career guidance leader Career Key, http://www.careerkey, recommends five ways students can make school more relevant, connecting classes with careers that interest them and the job skills needed for success. These activities will make school more interesting and help answer the question "why go to school?" By learning about careers and Foundation Job Skills, students will look at their classes from a new angle. Classes can help strengthen skills and serve as stepping-stones to a career field that interests them.
Although students drop out of school for many reasons, "classes were not interesting" is one of the biggest reasons, according to Civic Enterprises, a public policy firm in Washington, D.C. Career exploration and identifying relevant skills can be a way to make school more interesting by connecting what one learns in class to the real world.
Students should,
1. Identify three promising career options using a scientifically valid career interest inventory like The Career Key's career test. The Career Key web article "Learn More about Yourself" has more suggested activities.
Take classes that are relevant to those careers. The Department of Labor's Occupational Outlook Handbook has the best information about careers and what education is required to get a job in that field. Students should also ask teachers or their school counselor for help with their research.
2. Conduct at least one information interview for each career that interests him or her.
Conducting the interview itself will strengthen a number of Foundation Skills and give students a better idea about the world of work. Going to someone's workplace and doing a job shadow, observing someone as he or she works, gives a lot of valuable information about what a career is really like.
3. Identify five Foundation Skills in which they are strong and school classes and activities that will reinforce those skills. Students can download a free 17 Foundation Skills handout at the Career Key website.
In its eBookstore, Career Key offers an affordable eBook, "Choosing Classes in High School" that allows students to rate their Foundation Skills, with handouts that can be printed and filled out.
4. Identify three Foundation Skills they want to improve and school classes and activities that will strengthen them.
5. Try out and explore a variety of community activities, especially if one's school has limited extracurricular activities.
Meeting new people and volunteering in new environments can give a clearer idea of one's interests. There are often youth or public service organizations related to a career field. They may have summer programs or volunteer jobs.
More Recommended Career Exploration Activities at the Career Key website:
"Learn More About Yourself"
"Learn About Occupations"
"Learn More About the Jobs that Interest Me"
"Identify Your Skills"
"How Parents Can Help Their Children with Career Development"
About The Career Key®
Since 1997, Career Key has been the #1 Internet source for helping people choose careers and college majors. Advertising and registration-free, it offers a valid career test, information, and advice articles based on the best practices and science in the field.