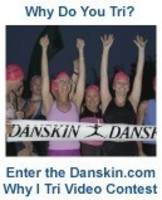 New York, NY (PRWEB) August 26, 2008
Danskin.com is pleased to announce their "Why I Tri" Video Contest for female triathletes to tell the world why they participate in triathlon.
The video contest features three categories: Change, Fitness, and Renewal. Entrants are encouraged to share their stories of how triathlon changed their life, how triathlon has helped meet their fitness goals, or how they've used triathlon -- or are using it now -- to recover from a difficult time in their life, such as illness, divorce, or death of a loved one.
Video entries, submitted via Danskin.com's official contest page on YouTube.com, will be judged on Creativity & Originality (40%), Demonstration of Real-life Example(s) of why the individual participates in triathlon (40%), and Excitement & Sincerity evidenced in the entry (20%). The deadline for entries is September 30, 2008.
Fifteen (15) Second Prize Winners (5 in each of the 3 categories) will be awarded a $100 E-Gift Certificate for Danskin.com; three (3) First Prize Winners (1 in each of the 3 categories) will receive two (2) 2009 Danskin Women's Triathlon Registrations to the race of their choice; and one (1) Grand Prize Winner will receive a trip (including airfare, hotel, airport transfer and race registration) to the 2009 Danskin Women's Triathlon Series Race at Disney World in Florida.
For complete "Why I Tri" Video Contest details, entry information, and official rules, visit: http://www.danskin.com/whyitricontest.html.
About Danskin.com:
Owned and operated by Triumph Apparel Corp., Danskin.com is the online source for Danskin active and dancewear. Learn more at http://www.danskin.com.
Media Contact: Jessica Koster
Tel: (212) 930-1573
###