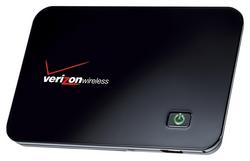 one of the year's most innovative 3G devices
Knoxville, Tenn. (Vocus) August 19, 2009
Cellular Sales, the nation's largest retailer of Verizon Wireless, now has one of the most revolutionary devices to hit the wireless market in years -- the Verizon Wireless Intelligent Mobile Hotspot. With a profile about the size of a credit card, the MiFi2200 connects multiple users and provides access to up to five Wi-Fi enabled devices including notebooks, netbooks, MP3 players, smartphones, cameras, PDAs, portable gaming systems and more.
Laptop Magazine called it "one of the year's most innovative 3G devices" and said it is a "must-have for any road warrior" and invaluable to those who need Internet access not just for themselves, but for small groups that travel together.
Jay Witherspoon of Verizon Wireless retailer Cellular Sales said, "The Intelligent Mobile Hotspot is ideal if you often need Wi-Fi access far away from traditional hotspots or want to give high-speed online access to multiple Wi-Fi enabled devices at one time.
"It is a portable, wireless Wi-Fi hotspot. From wherever you are in the coverage area, it detects the Verizon Wireless network and allows access to a reliable broadband connection. In Wi-Fi mode, it can connect up to five Wi-Fi-enabled devices at the same time. The lithium-ion battery provides up to 4 hours (40 hours on standby) of usage or the device can be plugged directly into an electric outlet. In USB mode, the device connects to your notebook via the included USB cable to use as a modem."
The Verizon Wireless Intelligent Mobile Hotspot available at Cellular Sales is about the size of eight stacked credit cards and weighs just over 2 ounces, so it's ultra-portable. Security features on the device include:

Password protection
VPN pass-through
CDMA authentication and identification
Dynamic Mobile IP (MIP) key update
Serial Peripheral Interface (SPI) firewall
Cellular Sales is a 15-year old privately held company headquartered in Knoxville, Tenn. The company currently operates throughout the United States. By year end, Cellular Sales - which attributes its rapid growth to unparalleled customer service - will open 50 new stores, bringing the company's total number of locations to over 300. Last year, Inc. Magazine named Cellular Sales one of the nation's fastest growing privately held companies.
For more information about the new Verizon Wireless Intelligent Mobile Hot Spot available at Cellular Sales or to find a store near you, visit the company's web site at http://www.cellularsales.com.
Media: Please find attached high resolution photo of the Verizon Intelligent Mobile Hotspot available at Cellular Sales Verizon Wireless. For more information, or to speak to a company representative, contact Rick Laney at (865) 584-0550.
###