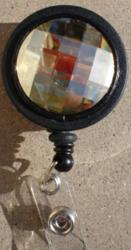 Chandler, AZ (PRWEB) November 20, 2012
Kim Arendt, owner and designer of WI Girl Designs, just added Amber Crystal badge reels to the website!
Retractable badge reels are used by all types of businesses, commonly to hold company or event identification cards. Kim's ID Badge Reels are chrome & plastic with slide type belt clip on the back. This is a heavy duty badge reel. Each designer reel is 1 1/2 inches round and 1/2 inches thick. The wire cord is 30 inches in length. Comes with a clear plastic strap with snap.
Several badge holder designs are created with Swarovski crystals. Swarovski crystal beads, one of the highest quality beads, are used as the accent color. Currently available are Clear, Ruby, and Aquamarine colors. Other styles include animal prints, which are all the rage right now, and solid color cabochons with patterns. Soon, Kim will have brightly colored flowers and patterns on her website.
Kim's beaded ID badge holders make wonderful gifts for those employees who must wear an ID badge at work.
Healthcare workers, government workers, event staff, teachers, and corporate workers need to wear a form of ID badge at their workplace. Kim says. "If you have to wear a badge, you may as well look good wearing it!" WI Girl Designs can help you with that.
WI Girl Designs website also features birthstone lanyards, in 2 styles. Birthstone crystal beads with sterling silver spacers, and birthstone crystal beads with white pearls.
Birthstone necklaces and bracelets are also featured on her website.
Kim offers customization! Team colors, corporate colors, and favorite colors are common requests. Reach Kim by going to WI Girl Designs website at http://www.wigirldesigns.com.