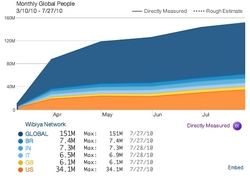 Websites can easily add features based on their benefits, from increasing page views and viewing analytics to integrating social networks. This allows each website to concentrate on their core business and use Wibiya for everything else
New York, NY (PRWEB) July 30, 2010
Wibiya is a relatively new startup, established by three founders, Dror Ceder, Daniel Tal and Avi Smila and Backed by Primera Capital, Dr. Yossi Vardi, Jeff Pulver and other private investors. The company came out with a private beta in June 2009, going public a few months later, in January 2010. Since then, in just over a year, the Wibiya social toolbar has positioned itself as the most popular web toolbar on the Internet, currently reaching more than 150 Million unique users a month. Wibiya's success is a result of organic marketing and has been distributed virally, through word of mouth, as the company does not invest money in marketing at all.
Today, Wibiya has more than 70,000 active websites with nearly 1000 new websites starting to use the service every day. Among these websites you can find many of the Internet's most popular brands and publishers that have custom solutions such as TheStreet.com, TheOnion.com, Playboy.com, Philly.com, JellyBelly.com and others.
The Wibiya web toolbar provides instant integration of a wide variety of web applications, some of which are a result of in-house development and some integrated by third parties. These web applications cover different aspects of online functionality, from social applications, to real-time analytics and content promotion. The web application bank includes everything from advanced Twitter and Facebook dashboards to CoolIris's 3D video galleries. Using these web applications turns regular websites and blogs into a centralized hub for all the information related to them on the net.
Company CEO and co-founder Dror Ceder explains the idea behind the inception of Wibiya: "Our Company's mission is to help Websites of all types easily integrate applications and features into their websites without writing any code. Websites can easily add features based on their benefits, from increasing page views and viewing analytics to integrating social networks. This allows each website to concentrate on their core business and use Wibiya for everything else".
The Company's strict "content is king" guideline has resulted in the creation of a web toolbar that weighs between 15-20kb, which is less than an average image file and by default loads only after the page content and ads load. It also offers custom and white label solutions for large partners, brands and agencies.
In the very near future, Wibiya is will launch a new website for Developers and an API where they will be able to integrate their own applications onto the Wibiya platform and track their application's performance. This will provide web developers with a great advantage as Wibiya is today a powerful distribution channel for applications. News announcements from the company can be received through their facebook page or by following them on twitter.
###