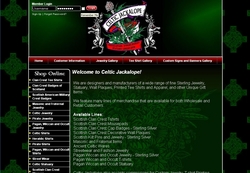 Glendora, CA (PRWEB) April 7, 2009
Celtic Jackalope announces the expansion of their collection of statuary, jewelry, and apparel inspired by ancient Celtic art and themes suggestive of Pagan and Wiccan art concepts. Artist Maxine Miller brings the varied experiences of her career and the influence of the Pre-Raphaelite movement to the pieces found on the site.
"Miller has created Celtic and Wiccan inspired artwork that reflects her reverence for nature and love of Celtic lore. Through the creation of her art, apparel, and jewelry she has not only found international success, but artistic fulfillment," states Michael MacFarlane.
CelticJackalope.com also offers extensive information on the meanings and traditions behind each distinct work. Exquisite detail and symbolism intrinsic in the pieces bring the iconic images to life.
Miller began her career amidst the glitter and grime of the punk rock era in Hollywood, California. Her long and varied career revolved around doing graphic art for the music and movie business and working with rock bands and divas, including Batman films and Madonna tours.
Maxine went on to create Demon art for the hit TV series "Angel," and the movie "Constantine," starring Keanu Reeves, and created costume sketches and props for many other feature films.
"Despite the excitement of show business clients, she still hungered for more artistic expression, so she began to follow her instincts and produce her own projects. This has lead Maxine to become a world renowned Celtic and fantasy artist and the creator of this dynamic and detailed collection of Celtic and Wiccan art and jewelry," relates MacFarlane.
Miller has been compared to Beardsley, Erte, and a variety of anime and graphic novelists. Her interest in ancient cultures and the Pre-Raphaelite movement of the nineteenth century has influenced the Celtic and Wiccan designs on sterling silver jewelry, statuary and bas-relief plaques, silk-screened apparel, and fine art prints. Her rare fine art pieces are collected by prominent people in the art and entertainment scene, and her unique tattoo designs have been chosen by grateful patrons all over the world.
To view Celtic Jackalope's Wiccan art pieces, Scottish jewelry, Celtic statues, and related apparel, visit CelticJackalope.com.
About Maxine Miller and Celtic Jackalope:
Maxine Miller is the creative mind behind Celtic Jackalope, featuring highly detailed handmade merchandise honoring ancient traditions and mysticism based on Celtic, Scottish, Pagan, and Wiccan beliefs. Her interests merge perfectly with those of Michael MacFarlane, FSA Scot, Chieftain of the Clan MacFarlane, a Fellow of the Society of Antiquaries of Scotland and owner of Celtic Jackalope. This successful entrepreneurial connection has led him to manage the collection as well as manufacturing and distributing the pieces. All items available for online purchase are created with discerning integrity and distributed through non-exploitative and fair-trade channels.
# # #