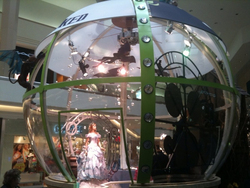 Visitors will enjoy the bewitching display, "The World of WICKED," where they can walk through Glinda the Good's bubble, see the "Behind the Emerald Curtain" museum display and take a photo in OZ.
Bloomfield Hills, Mich. (PRWEB) March 17, 2010
A Wicked partnership is brewing between national mall owner Taubman and Broadway's biggest blockbuster, Wicked.
Select Taubman malls will feature Wicked displays and promotional offerings in conjunction with the Broadway hit's critically acclaimed national tour. Visitors will enjoy the bewitching Grand Court display, "The World of Wicked," where they can walk through Glinda the Good's bubble, see the "Behind the Emerald Curtain" museum display and take a photo in Oz. At the malls there will also be Wicked cast appearances, retailer and hotel discounts, prize giveaways and other "oz-some" exclusive offerings to celebrate and promote this worldwide theatrical phenomenon.
Winner of 26 major awards, including the Grammy Award and three Tony Awards, Wicked is the untold story of the witches of Oz. Long before Dorothy drops in, two other girls meet in the land of Oz. One, born with emerald-green skin, is smart, fiery and misunderstood. The other is beautiful, ambitious and very popular. Wicked tells the story of the remarkable odyssey, and how these two unlikely friends grow to become the Wicked Witch of the West and Glinda the Good.
Declared "The Best Musical of the Decade" by Entertainment Weekly and "A Cultural Phenomenon" by Variety, Wicked is based on the novel by Gregory Maguire and has music and lyrics by Stephen Schwartz and a book by Winnie Holzman.
"It's a partnership of the biggest and best of Broadway and retail," says Lisa Herzlich, Director of Partnership Development for Taubman. "We couldn't be more pleased to have worked with a brand like Wicked to design, build and launch our first prototype of this type of touring event. Our local marketing teams have worked with their retailers to develop Wicked tie-ins that will generate a new kind of excitement and interactivity with our customers."
Malls to feature Wicked promotions and spellbinding specials, along with approximate dates, are:

Sunvalley Shopping Center in Concord, Calif. (San Francisco market) from March 12 through April 5, 2010;
Northlake Mall in Charlotte, N.C. from April 16 through May 10, 2010;
The Shops at Willow Bend in Plano, Texas (Dallas market) from May 16 through June 13, 2010;
The Mall at Short Hills in Short Hills, N.J. (New York City market) from September 24 through October 17, 2010;
Fair Oaks Mall in Fairfax, Va. (Washington D.C. market) in summer 2011;
Stamford Town Center in Stamford, Conn. (New York City market) in fall 2011; and
Twelve Oaks Mall in Novi, Mich. (Detroit market) in fall 2011.
For more information on Wicked, visit http://www.wickedthemusical.com .
Taubman Centers is a real estate investment trust engaged in the development, leasing and management of regional and super regional shopping centers. Taubman's 26 U.S. owned, leased and/or managed properties, the most productive in the industry, serve major markets from coast to coast. Taubman Centers is headquartered in Bloomfield Hills, Mich. and its Taubman Asia subsidiary is headquartered in Hong Kong. Founded in 1950, Taubman celebrates its 60th anniversary in 2010. For more information about Taubman, visit http://www.taubman.com .
For ease of use, references in this press release to "Taubman Centers", "company" or "Taubman" mean Taubman Centers, Inc. or one or more of a number of separate, affiliated entities. Business is actually conducted by an affiliated entity rather than Taubman Centers, Inc. itself.
This press release may contain forward-looking statements within the meaning of Section 27A of the Securities Act of 1933, as amended, and Section 21E of the Securities Exchange Act of 1934, as amended. These statements reflect management's current views with respect to future events and financial performance. Actual results may differ materially from those expected because of various risks and uncertainties, including, but not limited to the continuing impacts of the U.S. recession and global credit environment, other changes in general economic and real estate conditions, changes in the interest rate environment and the availability of financing, and adverse changes in the retail industry. Other risks and uncertainties are discussed in the company's filings with the Securities and Exchange Commission including its most recent Annual Report on Form 10-K.
###