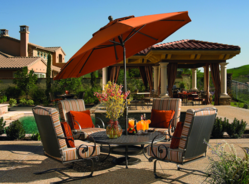 Northbrook, IL (PRWEB) May 23, 2011
PatioFurnitureBuy.com, an online retailer of Net Retailers Inc, announces the launch of two top quality patio furniture manufacturers - OW Lee and Homecrest. PatioFurnitureBuy.com is offering full lines of wrought iron, aluminum and steel collections from these top of the line patio furniture brands. Additions of Homecrest and OW Lee follow recent partnerships of PatioFurnitureBuy.com with Tropitone, Meadowcraft, Telescope Casual, Windham Castings and North Cape International earlier this year. This demonstrates the commitment of PatioFurnitureBuy.com to keep its reputation in selling highest quality American patio furniture brands.
Homecrest and OW Lee furniture each add over half a century of leadership in producing top quality patio furniture. These brands make a perfect fit to the existing portfolio of PatioFurnitureBuy.com custom products. PatioFurnitureBuy.com is known for presenting manufacturer's complex patio furniture in a user friendly way so that customers can effortlessly look through all the options and customize their furniture to meet their needs. Customers now have the capability to purchase full lines of these luxury quality brands online at PatioFurnitureBuy.com This launch is announced in the middle of the hot spring patio furniture season – customers can take advantage of the timing and shop OW Lee and Homecrest furniture.
About OW Lee:
For over sixty years, OW Lee has been dedicated to the design and production of fine, handcrafted casual furniture. From their 100,000-square-foot manufacturing facility in Ontario, California, artisans combine centuries-old techniques with state-of-the-art equipment to produce beautiful casual furniture. OW Lee Company uses only the highest-quality materials in the production of their furniture. Carbon steel, galvanized steel, and 6061 alloy aluminum are meticulously chosen for superior strength as well as rust and corrosion resistance. Materials are individually measured and precision-cut to ensure a smooth and accurate fit. Steel and aluminum pieces are bent into exact shapes and then hand-forged with a hammer and anvil, a process unchanged since blacksmiths in the Middle Ages.
About Homecrest:
60-year old outdoor patio furniture brand combines a rich history of quality and classic design with today's demand for affordable luxury and versatile living. Homecrest Furniture is poised to build its future on consumer and contract needs, innovative new products and global opportunities. A comprehensive line of affordable luxury outdoor patio furniture offered in 30 collections. Pieces include tables, chairs, chaises, loveseats, sofas, ottomans bar and balcony stools/chairs stools featuring durable aluminum, steel, and cast frame construction. Products can be customized with an array of frame finish colors and fashionable fabric options. Tabletop options include metal, glass, granite and a broad selection of faux products.
About PatioFurnitureBuy.com
PatioFurnitureBuy.com is an online retailer of top quality patio furniture from major manufacturers offering fully customized patio furniture with hundreds of options, distinctive product representation, brand awareness, and dedicated customer service. The leading patio furniture retailer also offers patio furniture accessories and individual items in addition to patio furniture sets. For more details on PatioFurnitureBuy.com, please visit: http://www.PatioFurnitureBuy.com
###