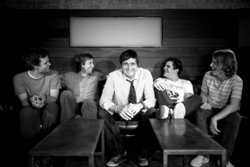 Something We Can't Let Go
Austin, Texas (PRWEB) January 20, 2009
Wideawake, Austin's ambitious purveyors of inspirational and deliriously catchy pop/rock, will be releasing their new record, "Something We Can't Let Go", on January 20, 2009. The record will be Wideawake's first release on Los Angeles-based Artist Garage Records and will end the band's 3 year hiatus.
Bursting onto the Austin music scene in 2000, Wideawake's inspirational brand of anthemic pop/rock quickly made the band a stand-out and a must-see among the masses of other local hopefuls. Winning Austin Music Awards in 2004, 2005, and 2006, the band built a large, loyal following in the Music Capitol before exploding onto the national scene with 2004's Not So Far Away. Wideawake's music has since been featured in a host of television productions including episodes of Scrubs, Grey's Anatomy, and Dawson's Creek as well as a variety of feature length films including The Ring and Tristan and Isolde. The band's two independent releases have sold a combined 30,000 units and they have played over 1000 shows since 2000.
Something That We Can't Let Go is Wideawake's third studio album. It contains "Maybe Tonight, Maybe Tomorrow," a song that was inspired by a close friend's cancer diagnosis, which has already sold in excess of 15,000 downloads on iTunes via a partnership with the Lance Armstrong Foundation. All tracks on the record were produced and mixed by CJ Eiriksson (Matchbox 20, Incubus, Hoobastank, Live).
Something We Can't Let Go will be available on January 20th, 2009 from the band's website, Best Buy, Amazon, iTunes, Rhapsody, Waterloo Records, Encore, and the major independent stores in the following markets: Atlanta, GA; Tampa-St. Petersburg, FL; San Diego, CA; Milwaukee, WI; Cincinnati, OH; Nashville, TN; Lexington, KY; Tucson, AZ. The band will be playing a CD release show at world famous Antone's in Austin, TX on January 24.
For more information on Wideawake, visit their EPK at http://www.thesurefireeffect.com/epk/wideawake/ or contact Stephen Tatton with SureFire Media + Promotion. For more information on Artist Garage Records, visit http://www.artistgarage.com. For more information about the CD release show, visit http://antones.frontgatetickets.com/.
###