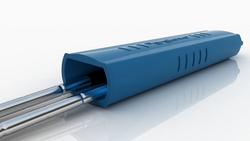 I used to carry a towel to try to keep my grips dry, but if the grass was wet from dew or rain, my towel was wet after only a few holes
AUSTIN, Texas (PRWEB) August 5, 2008
"The idea for the g-glove® originated from my personal frustration on the golf course, constantly fighting wet, slippery grips," said Glenn Martin, g-glove® inventor. "After refining the design, the g-glove® made keeping my grips free from moisture, dirt, sand or wet grass easy. Golfers are always laying extra clubs on the ground, and the g-glove® lets them do it without worrying about their grips."
"I used to carry a towel to try to keep my grips dry, but if the grass was wet from dew or rain, my towel was wet after only a few holes," said Marshall McMaster, an Austin, Texas golfer. "The g-glove® is easy to use and I don't have to worry about my grips anymore."
An ideal gift for any golfer, the g-glove® is customizable for special events or as a distinctive company give-away. The g-glove® is available today for just $23.95 plus shipping and handling, and features a 30-day money back guarantee. For more information or to order the g-glove®, visit us at http://www.g-glove.com or dial 1-800-797-7778.
About wideRight LLC
wideRight LLC is a leading innovator of products and accessories for golf enthusiasts of all ages and skill levels. Founded in 2007 by devoted amateur golfer Glenn Martin, wideRight LLC leverages his on-course observations to develop affordable products that boost scores, protect equipment and enhance the golfing lifestyle. For more information about wideRight LLC and to purchase products, please call 1-800-797-7778. Or, visit us online at http://www.g-glove.com. wideRight LLC is based in Austin, Texas.
MULTIMEDIA GALLERY http://www.businesswire.com/cgi-bin/mmg.cgi?eid=5748089