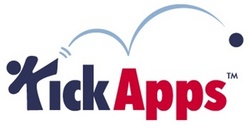 Widgets have proven to be a very effective vehicle for distributing content and marketing messages in a highly viral manner
NEW YORK & MC LEAN, Va. (PRWEB) June 10, 2008
With widgets becoming an integral part of every web publisher and marketer's arsenal for driving audience growth, the industry is turning its focus to widgets as a platform for advertising. With over 24,000 publishers using KickApps to create and deploy widgets, including some of the world's largest media & entertainment companies, the company recently launched an internal initiative around the development of WidgeADs™, KickApps' new industry standard format for widget advertising. Using Clearspring's WidgetMedia services, the companies will collaborate on delivering a powerful end-to-end widget advertising solution for publishers and marketers. Clearspring is the No. 1 widget platform in the U.S. tallying 47.5 million unique widget viewers in April 2008, according to comScore's Widget Metrix report.
"Widgets have proven to be a very effective vehicle for distributing content and marketing messages in a highly viral manner," said Alex Blum, CEO of KickApps. "As we've done with social networking, user-generated content and video players, we're reducing the barriers to entry for publishers and Madison Ave to begin monetizing widgets using WidgeADs. Our partnership with Clearspring brings together the core pieces that will define this new market opportunity."
Like next-generation banner ads, widgets are interactive Web applications that contain dynamically updated content, keeping them fresh and relevant to viewers, and driving traffic back to the publisher's web site. Consumers can easily grab and post widgets that interest them to their own websites, social networking site, personal homepage, blog or desktop. Posted widgets retain their viral capability and can be shared time and again.
"Our vision is to deliver an end-to-end solution enabling marketers and publishers to reap the benefits of the emerging widget channel," said Hooman Radfar, founder and CEO of Clearspring. "We have created innovative solutions for distribution, tracking, and monetization and we are well on the way to creating the Web's most efficient widget ad network. In partnering with KickApps we deliver a one-stop shop for any publisher or marketer to create and distribute widgets."
Clearspring's advertising solutions are fully integrated with the top ad-serving systems including DoubleClick and Mediaplex. Clearspring also offers a full set of analytics and reporting tools so advertisers can monitor activity as WidgeADs traverse the Web and can manage media placements in response to each widget's viral performance.
About KickApps
KickApps provides on demand social media applications that enable web publishers and marketers to grow, engage and monetize online audiences. Its SaaS platform includes social networking, user-generated content, programmable video players, viral Widgets and other applications that are tightly integrated with robust media moderation, member management and reporting. The KickApps Platform seamlessly integrates with any website using HTML, CSS, JavaScript, feeds, Widgets and APIs (REST and SOAP). Customers include: ABC Family, CW Television, Guinness World Records, Scripps Network Interactive, VIBE Magazine, HBO, Cinemax, Cox Television, the Phoenix Suns, the New York Knicks, the New York Rangers and over 21,000 other sites. For more information, visit http://www.kickapps.com and http://www.kickdeveloper.com.
About Clearspring
Clearspring is the market's leading widget syndication, tracking and monetization service, used by the world's largest media companies and advertisers, and independent widget developers. Clearspring helps publishers and marketers extend their reach to the leading social networks, start pages and blogs and to respond to growing consumer demand for a more personalized desktop, Web, and mobile experience. Headquartered near Washington, D.C., Clearspring offers a comprehensive set of widget creation, distribution, management and monetization services. For more information about Clearspring Technologies and how to use widgets in your business or to join the Clearspring developer community, please visit http://www.clearspring.com.