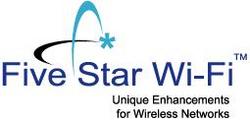 Not only can most any hotspot staff member install the Wireless Printout System with little or no technical knowledge, the simplicity of printing with this system means staff are freed from having to assist customers in using it. The only information that a user needs to know is the website name, wirelessprintout.com. Once they're on the website, printing is extremely straightforward
Washington, D.C. (PRWEB) September 17, 2007
FiveStar Wi-Fi introduced a major new capability for wireless network users today with the release of its Wireless Printout System, which lets users print files and documents directly over Wi-Fi from the website http://www.wirelessprintout.com.
Until now, mobile workers faced various hurdles when printing files from their laptop computers. Unexpected and time-consuming efforts have been typical, such as moving files onto a USB thumb drive for printing from a separate, shared computer. Some locations have their users email documents from their computers to a staff member for printing. Other venues use Internet based printing systems that require a numeric code to be entered, sometimes requiring staff assistance, in order to enable printing to begin. Other solutions offer technically challenging hurdles such as when a venue shares a printer across its wireless network, requiring users to install printer drivers for the specific make and model printer on site, as well as configure their computer for network printing. In each of these common situations, Wi-Fi users typically rely on a staff member who has sufficient technical skills.
At hotspots offering the Wireless Printout System , delays and technical hurdles are virtually non-existent. To make a printout, users open a web browser to http://www.wirelessprintout.com , which redirects the user's computer to a Wireless Printout Server on site. Once connected, the user can quickly and easily send files for printing using the high speed wireless connectivity in the hotspot.
In beta tests, the system has proven extremely valuable not only to Wi-Fi users, but to wireless hotspot owners as well. "Customers love the ability to print from their laptops over our Wi-Fi network. I even have one customer who specifically comes to my cafe instead of others in the area because he can print from his laptop while he's doing work here", says Mostafa Moujahid, owner of Washington DC's Steam Cafe.
In addition to providing fast and easy printing for laptop users, installing the Wireless Printout System in a hotspot is simple as well. Technical skills are unnecessary beyond connecting the Wireless Printout Server to the printer, attaching power cords, and entering the network name, or SSID, into the server.
"Not only can most any hotspot staff member install the Wireless Printout System with little or no technical knowledge, the simplicity of printing with this system means staff are freed from having to assist customers in using it. The only information that a user needs to know is the website name, wirelessprintout.com. Once they're on the website, printing is extremely straightforward" said Steve Chafe, Co-Founder of FiveStar Wi-Fi.
For more details about the Wireless Printout System, visit http://www.fivestarwifi.com.
About FiveStar Wi-Fi
FiveStar Wi-Fi is the wireless product arm of Innove Technologies, a 4 year old company located in metro Washington, DC specializing in communications technology services. The company focus is on developing innovative, yet highly reliable, software and hardware systems that advance the capabilities of wireless network systems while reducing the amount of technical expertise needed to provide optimal performance for the end users.
For more information about the Wireless Printout System, please contact Partho Pratim at (877) 792-2080 or send email to sales @ fivestarwifi.com.
###