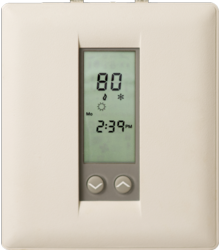 The RP32-WIFI includes a built-in web server, allowing simple connection from any PC, Mac, smart phone or tablet. Anywhere, any time.
Grapevine, Texas (PRWEB) December 07, 2011
NetworkThermostat, a leading communications-based thermostat manufacturer since 1995, announces the availability of its new RP32-WIFI wireless IP thermostat. This new programmable communicating thermostat (PCT) is a Wi-FI thermostat that includes a built-in web server, allowing simple connection from any PC, Mac, smart phone or tablet. The intuitive interface and powerful web engine puts the right amount of control at the right location. There's no need for platform specific mobile apps, including iPhone, iPad and Android platforms.
"It's gotta be simple…™" is the driving force behind the development, bringing together software, hardware and human engineering to create a 802.11-based product that allows for the perfect blend of aesthetics and technology.
While traditional programmable thermostats place a burden on the user to program every schedule from the front panel of the thermostat, this Internet thermostat allows point and click control from just about any browser on any device from anywhere there's a Wi-Fi or Internet connection. The RP32-WIFI is an automatic changeover 3-Heat / 2-Cool thermostat with programmability from just a single schedule to seven days per week with up to four events per day. "Schedule programming is performed over the Wi-Fi connection, where it should be done, not from the front panel of the thermostat. 'Thermostat hieroglyphics' and the energy wasteful 'hold' button are a thing of the past. It's a powerful new product with the perfect combination of simple front-panel operation and sophisticated control from the browser", said Jerry Drew, NetworkThermostat's President. In addition, creating an extended hold (vacation) can be quickly done from the thermostat front panel or from the Wi-Fi connection. With the RP32-WIFI, the user simply enters the day and time to return to normal schedules, allowing energy savings when away and energy efficiency when not.
Because this is an IP thermostat, secure Wi-Fi connection and control can occur from anywhere inside the home or business, and connection from the Internet if you're not at the thermostat's location. In addition, controlling multiple RP32-WIFI thermostats is as easy as controlling one. Users have multiple options of using the free Internet-based Net/X™ Remote Device login tool, free Net/X™ Device Explorer tool for on-site LANs (both tools will list all of the user's thermostats), or the free Net/X Command Center software for drag-and-drop scheduling of multiple thermostats.
The RP32-WIFI has universal equipment control for conventional gas/electric, heat pump (including dual fuel), electric, and hydronic heat systems. The new thermostat engages both residential and commercial features, including Smart Schedule Recovery™ which allows intelligent temperature recovery, Efficient Equipment Restart™ which efficiently staggers scheduled start times to eliminate multiple units starting at once, adjustable override time and min/max setpoints, fan recirculation, vacation scheduling, keypad lockout, and many more powerful features.
The RP32-WIFI also incorporates an effective alert notification system for both the end customer and service contractor. Email and SMS text messaging alerts allow for fast response when equipment problems arise and reminders for general maintenance of the connected HVAC gear. Alerts include high and low room and outside temperatures, inefficient equipment operation and a reminder to change the filter.
NetworkThermostat also teamed up with the most powerful weather service, Weatherbug®. Weatherbug® is integrated right into the thermostat, allowing users to know the outside temperature (without the need for a sensor), full current weather conditions and seven day forecast, all right from the browser.
In addition, the RP32-WIFI employs NetworkThermostat's open API, allowing software developers and hardware integrators the ability to quickly and seamlessly integrate the thermostat into other systems.
"The RP32-WIFI advantages are an unparalleled level of user accessibility, customization and energy savings", Drew states. By conquering the inadequacies of standard thermostats, and the complexity of more expensive building automation systems, the RP32-WIFI is positioned to be a mainstay of the HVAC industry.
Availability
The product is available through an ever-growing network of online retailers, HVAC distributors and contractors. Detailed information on this product, and NetworkThermostat's industry leading network solutions can be found on the web at: http://www.networkthermostat.com , email: sales@networkthermostat.com , telephone: 866-563-0711
Production
NetworkThermostat is proud of the hard work and coordination of its suppliers and partners, all working together to all us to build this product in Texas, USA.
Awards
In it's first month of production, the RP32-WIFI thermostat has already been awarded twice; both at the 2011 WFX Expo in Dallas. Best HVAC Product or System. Best Overall New Facility Product.
About NetworkThermostat
Since 1995, NetworkThermostat maintains the position of industry leader in providing Network Thermostat Solutions for facilities, small business, commercial or light industrial applications. Known for its ability to provide high quality, easy to use and powerful solutions, NetworkThermostat has been the OEM manufacturer of choice for 15+ years and has provided communicating thermostat solutions for the smallest buildings in the world, telecom cell tower bunkers, to the tallest building in the world, the Burj-Khalifa. The product line offers all the features of programmable thermostats plus the benefits of simple, reliable communications that control HVAC equipment, through a local or remote connection, anywhere, anytime.
###